Stories
VA Battle Creek health care top stories.
The Battle Creek VA Medical Center held the official ribbon-cutting ceremony on its new Benton Harbor VA Outpatient Clinic on October 18, 2022.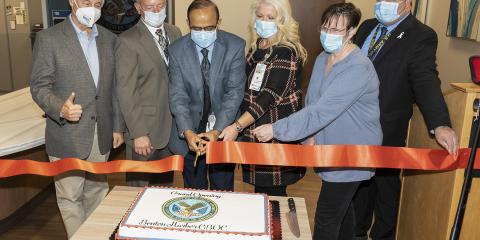 Over 114 attendees processed through our Auditorium (Building 6) with resumes and credentials in hand, and over 50 walked out with job offers.
It's time to get a flu shot!
There is a powerful combination of social interaction, connection, and the healing impact of activities on the water.
Veteran Jeremiah Brown's oil painting of Cheikh Anta Diop won "Best of Show" during our local Veterans Creative Arts Competition at the Auditorium last Thursday, August 4, 2022.
Don't miss the opportunity to honor fallen heroes by visiting the replica Vietnam Memorial at Harper Creek High School July 14-17.
The Battle Creek VA Medical Center held its 12th Annual VA2K Walk and Roll last Wednesday to dedicate to supporting homeless Veterans while also encouraging healthy activity.
Join your colleagues in raising awareness for sexual assault prevention by wearing jeans on April 27, 2022.
April is Parkinson's Awareness month. This year's theme is "Future of PD".
As we recognize National Vietnam War Veterans Day on March 29th, a Missing Man table is on display in the Canteen.