Stories
VA Greater Los Angeles Healthcare System top stories.
On any given day at the bustling Domiciliary (DOM) on the West Los Angeles VA Medical Center campus, Veterans stroll between the entrances of the DOM's two buildings. They chat amongst themselves, rest on benches in the grassy courtyard or head to their daily classes.
Every day, registered nurse and Marine Corps Veteran David Shay sees the realities of homelessness firsthand. His patients are the most vulnerable of Veterans and have often experienced extreme trauma through their time in the military or from their life on the streets.
Screening for breast cancer can be scary, and it's okay to be afraid. Waiting on results can be especially frightening.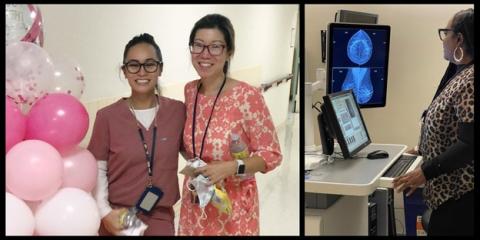 A howl echoes through the air at Lockwood Animal Rescue Center (LARC) as a group of Veterans gathers around the enclosure of a wolf who's been rescued from troublesome circumstances.
Veterans and Veterans Administration employees came together for fun and exercise in the 13th annual National VA2K Walk & Roll at the Wadsworth theater on the VA Greater Los Angeles Health Care System campus, on May 17 at approximately 11:30 a.m.
The lights in the theater lobby flicker. People file in, chatting and laughing. Soon the lights go off. The theater falls into darkness, silence and anticipation.
Am I going to survive this? Am I going to be able to function as a man?
Virgil Corbin, an Army Veteran and passionate playwright, smiles from ear to ear while watching his fellow Veterans take center stage at the cozy Brentwood School Theater. He is fully immersed in the captivating performance unfolding before him.
She was driving when the familiar feeling hit her: crushing chest pain, dizziness, sweating, a certainty that she was going to die.
Members of the Homeless Patient Aligned Care Team (HPACT) have one very important thing in common: a powerful shared commitment to ending Veteran homelessness and ensuring this special population gets the comprehensive care they need and deserve.