Stories
VA Milwaukee health care top stories.
Treatment works. That's the mantra of the Department of Veterans Affairs when it comes to post-traumatic stress disorder. Numerous studies and years of evidence-based work have shown that VA is a leader in effective treatment of PTSD.
John Scott gets emotional when he talks about two things: His fellow soldiers who didn't make it home from Vietnam, and the care he received for his prostate cancer at the Milwaukee VA Medical Center.
Arthur Thinnes died when the USS Oklahoma was bombed in the Dec. 7, 1941, attack on Pearl Harbor, his remains entombed, along with hundreds of other sailors, on the bottom of the harbor.
The PACT Act is working, but getting the word out to Veterans is still imperative.
It's National Police Week, and Milwaukee VA Medical Center wants to shine a spotlight on one of our own, Lt. Nicholas Thorn.
A "pneumonia front" moved in overnight and brought a significant chill to the air, but that didn't stop people from lacing up their shoes on May 17 for the Milwaukee VA2K Walk and Roll event.
Two Veterans served by the Milwaukee VA had their time in the spotlight when they performed as part of the National Veterans Creative Arts Festival.
"I think it's fantastic." That's how U.S. Air Force Veteran John Margowski summed up his thoughts about the construction of a new Veterans Affairs outpatient clinic in Oconomowoc.
Four Zablocki VA Health Care System nurses were honored for their dedication, service, compassion, leadership and excellence during the annual Nursing Recognition Ceremony Monday.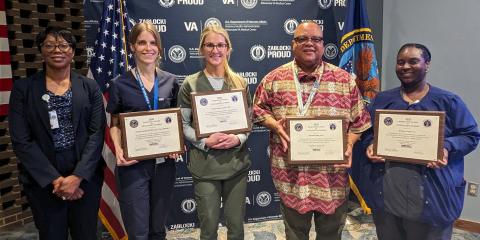 When asked what she likes about maternity care at the Milwaukee VA, U.S. Navy Veteran Shyanne Erdmann had a very succinct answer: "Everything," she said.