'A gem:' VA secretary meets with Veterans, staff during Milwaukee VA visit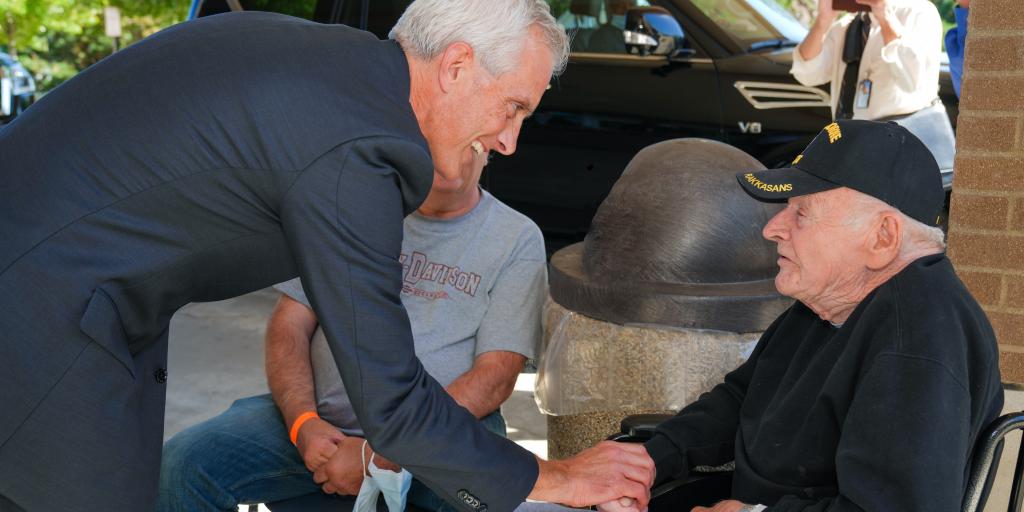 U.S. Department of Veterans Affairs Secretary Denis McDonough, left, greets Veteran Ervin Wicklander outside the Milwaukee VA Medical Center on Aug. 31, 2022.
U.S. Department of Veterans Affairs Secretary Denis McDonough got a handful — and an earful — during his visit to the Milwaukee VA Medical Center Aug. 31.
He shook the hands of numerous Veterans and employees as he made his way through the hallways, ate lunch in the canteen and toured the facility.
He also met one-on-one with some of the Veterans in the Community Living Centers on the ninth floor, chatting with them about their service, though McDonough admitted to one Veteran that was not in the military.
"I'm a civilian," McDonough said.
The Veteran seemed surprised. "I figured you'd come in here with a whole chest full of ribbons," he said with a laugh.
Knowing he was in Packer country, the Minnesota native never missed an opportunity to needle Green Bay — and other — fans.
When a food service worker declared he was a Bears fan, McDonough quipped, "That's even worse!"
But beyond pressing the flesh, McDonough came to the facility — with no media or press following — to learn about the good things happening in Milwaukee and to hear from leadership and employees about concerns they had.
"This facility is great; it's a gem. It's a really well-functioning VAMC," McDonough told leadership. "And it's through these visits that I get a better understanding of what works for you and how we can be a better partner."
McDonough's stop at the hospital came after his address at the American Legion's national convention in downtown Milwaukee.
'Food as medicine'
His visit included a meeting with Nutrition and Food Services personnel, where he asked about "food as medicine" and heard about initiatives at the Milwaukee VA that help reduce food insecurity among Veterans.
Those include the food waste reduction program, where leftover food that had been prepared for hospital inpatients is packaged and distributed to Veterans in need through various outreach programs.
He also learned about the Healthy Teaching Kitchen, which offers virtual cooking classes for Veterans, and other programs that stress nutrition along with cost savings and easy preparation.
"We implement recipes and cooking techniques that are easy for all populations," said dietitian Elizabeth Martin, who works with Veterans in the Domiciliary, noting that the ingredients can easily be purchased at a local dollar store. "(Veterans can) prepare healthy, nutritious meals that are going to benefit them in the long run."
McDonough was impressed with the program and took interest in the fruit and vegetable gardens on the campus that Veterans tend. He later toured one of the gardens and recorded a quick video highlighting it.
McDonough also praised the collaboration that takes place among social workers, food service workers and other to addresses Veterans' nutritional needs.
"This is exciting," he said. "I'm thrilled to hear about what you're doing and impressed. There's so much common-sense logic undergirding this."
Accolades and challenges
During his meeting with leadership, McDonough learned about accolades for the Emergency Department and Facilities Management.
The Emergency Department recently received the Lantern Award from the Emergency Nurses Association, ranking it as one of the best emergency departments in the country. Milwaukee VA is the only VA to ever win the award.
Facilities Managements was honored last month by Focus on Energy for numerous updates and renovations that have led to significant costs savings for the hospital — $6 million reduction in annual utility bills.
McDonough also heard from leadership on challenges brought on by the Mission Act, electronic health records management and staffing shortages.
Chief of Staff Dr. Michael Erdmann noted a serious shortage of nurses — something affecting all hospitals.
"At the same time, we have backlogs brought on by COVID, and we haven't been able to catch up," he said. "And the community's in the same environment. We're all competing for smaller resources of talented health professionals."
Associate Director for Patient Care Services Tandria Williams said the problem is exacerbated by nurses leaving the profession. Meanwhile, VA has to remain competitive with private hospitals regarding wages, benefits and bonuses.
McDonough said provisions in the recently enacted PACT Act may help attract more nurses. Those provisions include more flexibility regarding incentives, expedited hiring and more competitive salaries.
In off-the-record meetings, McDonough also talked with a group of employees as well as union representatives.
Employees honored
Five employees received recognition and coin awards from McDonough:
Chaplain Robert Allen was honored for "creating positive vibes and bringing smiles to those he encounters." Also noted was the expansion of chaplain services under Allen's watch and his outreach to Veterans and staff alike.
Registered Nurse Meghan Lorbiecki was recognized for her dedication to the inpatient mental health unit and "consistently going above and beyond." The nurse educator has been instrumental in instituting a number of projects, including those involving alcohol withdrawal, intramuscular injections and improving processes to assure better patient safety.
Radiology Technician Melissa Kling and Associate Radiation Safety Officer Jade Parisey were honored for facilitating a project that "resulted in a 45% radiation dose reduction to Veterans involved in swallow studies." The project was notable for saving on costs, improving the process and causing zero harm.
Acute Outpatient Nursing Division Manager Ben Thelen was lauded for guiding the Emergency Department to the aforementioned Lantern Award as well as instituting the first VA Mobile Integrated Health Program, which teams the ED with community fire department paramedics to check on Veterans in their homes, thus reducing visits to the ED.
Click here to see more photos from the secretary's visit.
See all stories