Stories
Read about what's happening in our VA Pittsburgh health care community.
Were you ineligible to donate blood because of your military service in Europe? You may be eligible now.
A therapeutic sensory device at VA Pittsburgh Healthcare System's Community Living Center uses lights and sounds to either stimulate or calm Veterans.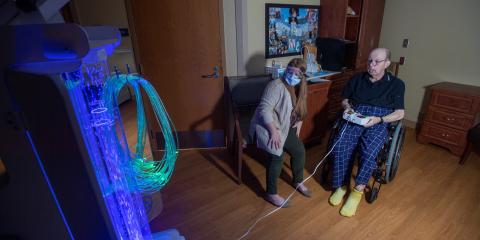 Much has changed since Tauna Perenovich of Kennedy Township started as an entry-level clerk-stenographer at VA Pittsburgh Healthcare System, but recognizing extraordinary federal service – despite a pandemic – hasn't.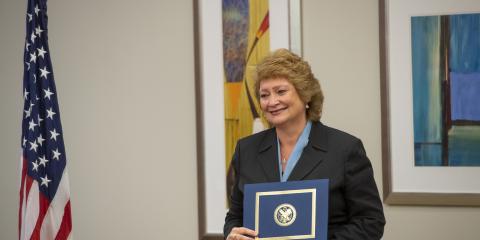 When a Veteran suggested mask making as a form of therapy during the early days of the coronavirus pandemic this spring, VA Pittsburgh Healthcare System (VAPHS) recreation therapist Haley Sherer made it happen.
Even when every preventive effort is made, not every suicide can be stopped. When a Veteran dies by suicide, VA Pittsburgh's postvention team helps survivors heal.
VA Pittsburgh Healthcare System (VAPHS) now uses telehealth to provide Veterans with close-to-home low-vision rehabilitation, a service many have found to be invaluable during COVID-19. It allows Veterans who cannot travel to Pittsburgh to receive care in their own homes or at nearby VA clinics.
The care VA provides for LGBT Veterans who experienced military sexual trauma while serving is very different from the care they may have received from their service branch. A Veteran who receives care at VA Pittsburgh Healthcare System tells her story.
Veteran care always comes first at VA Pittsburgh Healthcare System (VAPHS). Despite many pandemic-related changes, staff in all services, including chaplains, adapted creatively by finding innovative and meaningful ways to continue providing care.
Mantram repetition practice can help Veterans manage their stress, improve their sleep and manage trauma and anger issues. It's another facet of Whole Health designed to offer ways for Veterans to practice self-healing.
When others were thinking about staying safe from the coronavirus in March, Army Veteran Timothy Yablonski was thinking about staying alive.