Stories
Read about what's happening in our VA Salt Lake City health care community.
VA Salt Lake City recreation therapy program is looking to bring a little checking and scoring back into the lives of Veterans.
The safety of Veterans and VA employees continues to be our top priority as we navigate the COVID-19 pandemic.
They were pioneers during a time their country needed them most, yet they were also America's best kept secret until recently. The Women Air Force Service Pilots of World War II paved the way for women in the military today. 100 year old WASP Veteran Nell Bright is the epitome of Upholding Valor.
Throughout the VA Salt Lake City Healthcare System, everyone worked tirelessly to care for our Veteran population as the COVID-19 pandemic arrived in the United States.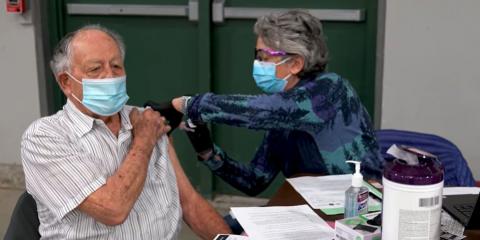 Eighty years later he can still hear the sirens wailing from Battleship Row. The sounds are what he remembers most from that day. That, and the fires.
A Utah Veteran is cherishing time with his grandkids this holiday season thanks to a double lung transplant. VA Salt Lake City, in partnership with the University of Utah, saved this Navy Veteran's life as time was running out.
In honor of Veteran's Day, we want to take a moment to shine a light on the impactful work taking place at the South Jordan VA Clinic.
VA Salt Lake City Voluntary Service's community partner, Ken Garff Automotive, ensured hundreds of Veterans will have a meal on their table this Thanksgiving.
Spiritual healing can be just as important as physical healing. In this week's Upholding Valor, we look at VA's Equine Therapy Program and how horses help heal our Veterans.
We are not in the clear. Not by a long shot. In this week's Upholding Valor two VA providers talk about the delta variant surge, their exhaustion and their fears. They are watching people die that don't need to.