Stories
Read about what's happening in our VA Charleston health care community.
In the spotlight at VA Charleston
In a recent multi-center study comparing diabetes care between the Department of Veterans Affairs (VA) and non-VA sites, it was determined that care was better managed within the VA.
In the spotlight at VA Charleston
In any organization, experience allows for a more knowledgeable workforce and leads to a better customer experience. At the Ralph H. Johnson VA Health Care System, this has never been truer than in looking at its Chaplain Service.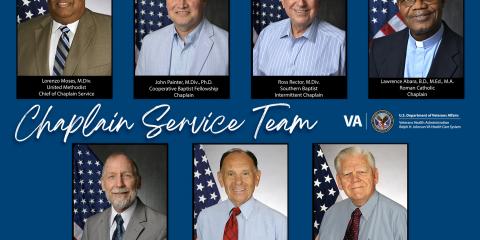 As the first of January rolls around, a new year begins and traditionally with that comes resolutions. Frequently these goals revolve around getting fit, losing weight and staying healthy.
According to the Centers for Disease Control (CDC), regular health exams and tests are important to detect problems before they start, or find problems early, when chances for successful treatment and cures are high.