Fighting every step of the way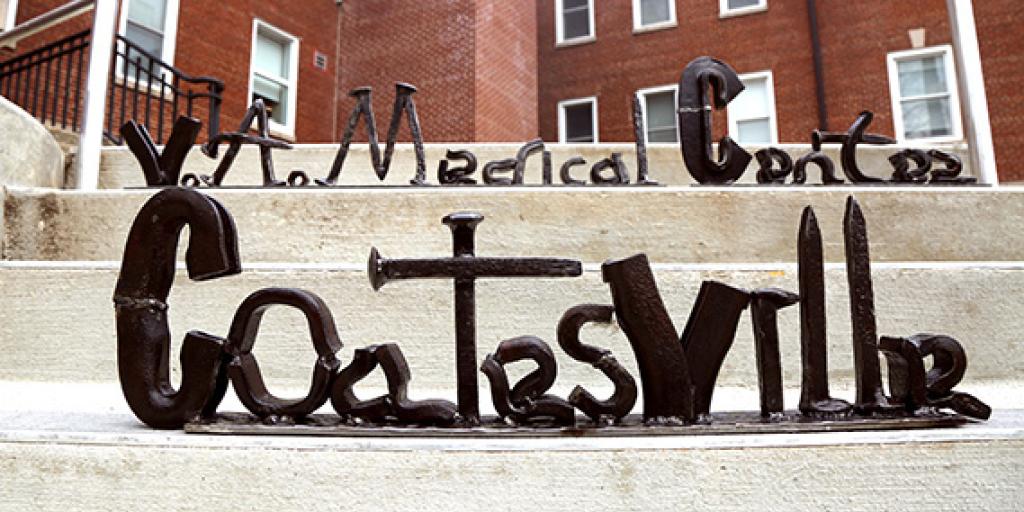 Iron from local railroads twisted to form the words "Coatesville VA Medical Center" was donated to the Coatesville VA on October 10, 2022, by U.S. Army Veteran and welder, Tim DiMarco, as a way of giving back to the hospital that serves the Veterans of southeast Pennsylvania and has been there for him since his discharge in 2007.
Striving to regain what he had lost, a determined Veteran and small business owner, who was fighting to keep everything, realized it was time to return to the Coatesville VA Medical Center once again.
Tim DiMarco served tours in Iraq and Afghanistan with the U.S. Army infantry and prides himself on being independent but has relied on the programs at Coatesville VA in the past. He has overcome substance abuse twice, he manages his Post-Traumatic Stress Disorder (PTSD), but when he stepped through their doors in May, DiMarco knew it was his best chance at keeping everything.
"I was fighting it. I didn't want to say I was homeless. I didn't want to say that I lost my business, but I couldn't stay on the floor at my ex-girlfriend's mom's house any longer."
He walked into the food pantry at the Coatesville VA and was greeted by two VA employees.
Difficult to say
That is when DiMarco said what must have been difficult to say aloud, "Look, I'm dirty, I'm hungry. And I'm homeless."
The two employees did more than just make DiMarco the bag of food Veterans have come to expect from the pantry. They listened and, with his permission, made a few calls.
That night DiMarco spent his first of many nights with Merakey Fresh Start, a transitional housing program designed to help homeless Veterans.
Fighting to keep everything
He was fighting to keep everything he had worked so hard to gain since his discharge from the Army in 2007. It wasn't drugs, alcohol, or PTSD that brought DiMarco into Coatesville VA that day. "I went broke because I lost my shop and then I had a mental breakdown."
His small business was barely making it but the new contract he was awarded was going to bring in the money he needed to catch up on his rent, on everything. That was January of 2020. DiMarco got sick and ended up in quarantine with what would later be diagnosed as COVID-19.
"I was violently sick and nobody knew what it was." DiMarco was fighting to hold on to his business by using his disability compensation to cover expenses, but it wasn't enough. After being in the hospital, he couldn't recover financially. DiMarco lost his shop and ended up sleeping on the floor at his ex-girlfriend's mom's house until the day he walked into the food pantry at Coatesville VA.
Sharing his art
He lost his shop but not his passion for welding.
In October of 2022, DiMarco stopped by the Voluntary Services office to drop off a piece of art he wanted to donate. In his hands were three pieces of twisted metal. As he set it on the counter, he explained that the pieces, which spell Coatesville VA Medical Center, are made from local railroad materials. They were made using the skills he learned in 2014 with the G.I. Bill benefits to start his welding business.
"I had done welding before, but I was never certified. So, I talked to a vocational rehabilitation counselor, and they were like, find a welding school." DiMarco found the Welding Testing and Training Institute (WTTI) in Allentown and got into their welder fitter program.
Standing strong
Attending the welding course in September of 2014 would not have been possible just six months earlier without the back surgery to fuse several of his disks. On active duty, DiMarco parachuted with the 82nd Airborne and attributes his injuries to his repeated proximity to improvised explosive devices or IEDs.
He fought to avoid surgery on his back for years even though his foot had gone numb. When DiMarco could no longer stand and hold his Harley-Davidson up, he knew he needed to seek treatment.
Feeling better after his back-surgery, DiMarco graduated the welding program and went to work with other welders in the area and began networking.
Delaying treatment takes its toll
Over time, the PTSD he has been in counseling for since 2008 became harder for DiMarco to manage and it got to where he knew he was at risk of being triggered when he left the house.
"The problem that I had with PTSD was not accepting that I had it." He describes the extent of his anxiety. "Why can't I leave the house today? Why is my anxiety so bad? I was so scared that I would hurt somebody." Delaying entry into the inpatient PTSD treatment program began to take its toll and after several short stays in prison in 2016, DiMarco realized he was likely going to hurt his then wife or someone else and finally agreed to enter the PTSD program here at Coatesville VA.
"I was there for a month. I didn't accept it for everything that it was because I was still fighting everything. What I did get out of it and helped me."
The tools he learned, coupled with his regularly scheduled mental health sessions, allowed him to launch his own small business, D4 Welding LLC, in 2017.
Destruction and Creation
Since that day, DiMarco has changed the direction of his welding business. In high school, he was in advanced art classes and decided to turn his craft into a creative outlet.
"The artwork fulfills a need inside. It's a desire for destruction and creation through everything." Maybe it's the airborne infantry in me," says DiMarco. He spoke about the destruction that came from combat but how he was intrigued by that destruction and how it was followed by rebuilding and creating.
DiMarco said he donated the metalwork as a way to give back to the medical center. He grew up here in the city of Coatesville, a steel town that relies on the railroad. He went to high school at the bottom of the hill, and knew the reputation as the place that served Veterans. Now, he is one of those Veterans.
Here to serve you
"I preach Coatesville VA. I preach the programs here. The Coatesville VA has been good to me. Whether you've been to war or not, use the system. It's there for you."
DiMarco has been discharged from the Merakey Fresh Start Grant and Per Diem program and, with the support available to Veterans through Housing and Urban Development-VA Supportive Housing (HUD-VASH) vouchers to help with the cost of rent, he now has a house to live in.
If you know a Veteran who has never applied or may have applied to the VA years ago, encourage them to apply for their benefits now and seek care for mental health, substance abuse, homelessness or the many other healthcare and benefits available to them through the VA.
See all stories