Stories
Read about what's happening in our VA Coatesville health care community.
Donations and events at Coatesville VAMC during the week of February 14 celebrate Veterans who are cared for at the Coatesville campus and their outpatient clinics in Newtown Square and West Norriton as part of National Salute to Veteran Patients Week.
Veterans who receive care at the Coatesville VA Medical Center (VAMC) now have easier access to triage nurses through the 24/7 virtual services provided by the VISN 4 RN Clinical Contact Center.
The Spring City Community Based Outpatient Clinic (CBOC), located on the grounds of the Southeastern Veterans Center, moves to 2495 General Armistead Avenue, Norristown, PA 19403.
The safety and care of Veterans and our workforce are top priorities for the Department of Veterans Affairs. Effective October 28, Coatesville VA Medical Center is offering the Moderna and Johnson & Johnson (J&J) Janssen vaccine booster shots.
On September 24, the Centers for Disease Control and Prevention (CDC) identified and recommended several groups of people who should get the Pfizer-BioNTech COVID-19 vaccine booster.
Coatesville VA Medical Center is ready for flu season.
A U.S. Navy Veteran employed at the VA showed up for a scheduled appointment with the Red Cross to donate blood at the Coatesville VA Medical Center as he has many times before.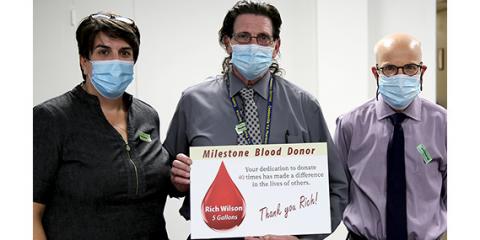 Veterans visiting the Coatesville VA Medical Center (VAMC) enjoy the benefits from the facility's ongoing green practices, earning them the 2021 Environmental Excellence Award from Practice Greenhealth.
Desert Storm Veteran Tom Marchetti had the opportunity to put a fly fishing rod in his hands July 21, at Coatesville VA Medical Center for the first time thanks to the dedicated group of volunteers from the Coatesville VAMC Program of Project Healing Waters Fly Fishing.
Dr. Ernest D. Shacklett, Coatesville VA Medical Center Director from 1974-1979, was one of the first to parachute into Normandy, during Operation OVERLORD, on June 6, 1944.