Mid-Missouri Fisher House
The Mid-Missouri Fisher House features 16 fully furnished suites and serves as a "home away from home" for the families of Veterans or military service members receiving treatment at the Harry S. Truman Memorial Veterans' Medical Center. The facility also features a large kitchen and dining area, an elevator and a full laundry. There is no cost to stay and there is no financial eligibility required.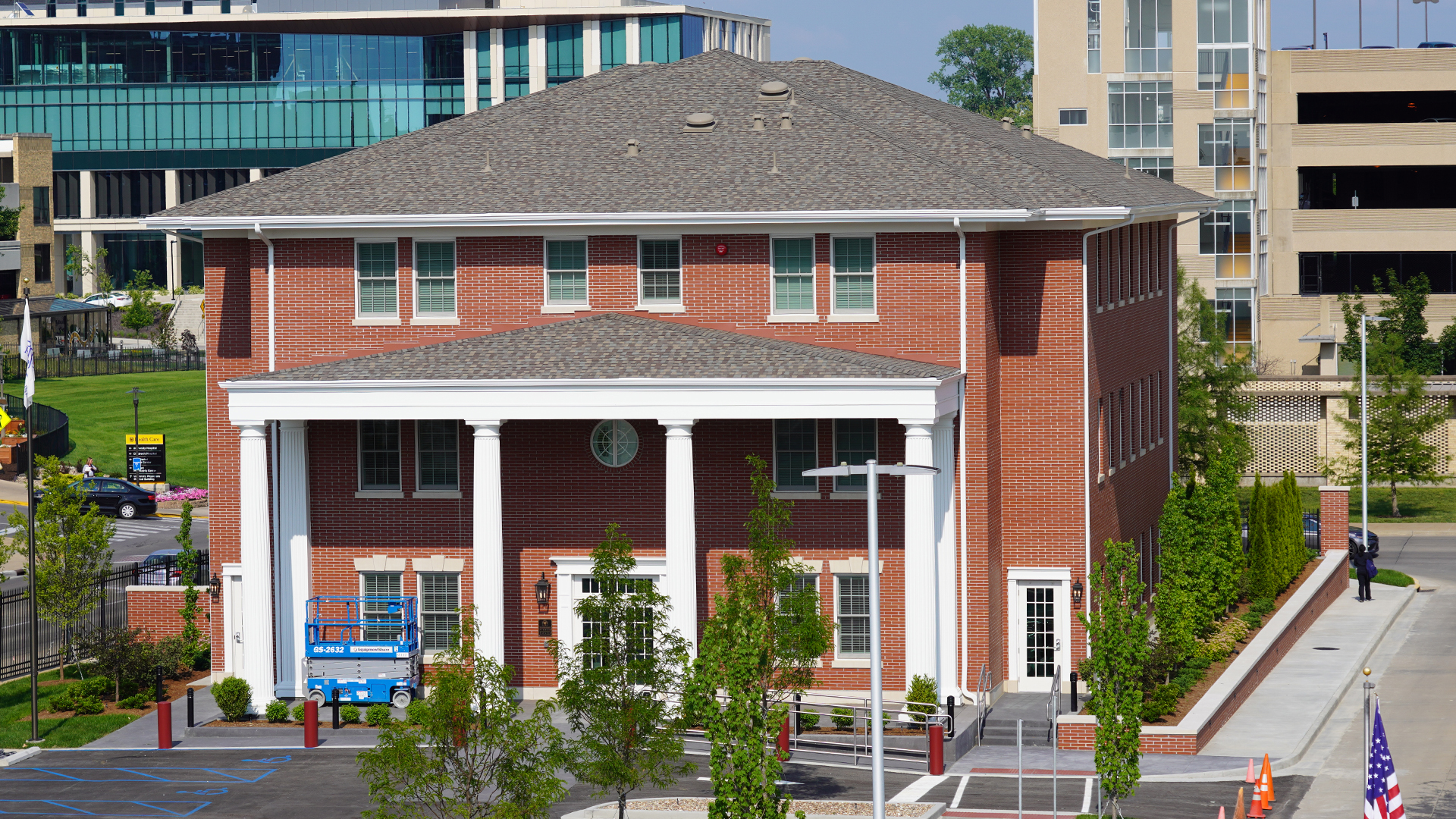 The Fisher House Program
The Fisher House Program is a unique private-public partnership between the Fisher House Foundation and the Department of Veterans Affairs and the Department of Defense that supports America's military in their time of need. The Fisher House Foundation builds, furnishes and donates these "comfort homes" located on major military and VA medical centers. The local community raises a portion of the construction costs, and the Fisher House Foundation contributes the rest. Zachary and Elizabeth Fisher first recognized the need to provide "homes away from home" for families of hospitalized military men and women in 1990. 
Mid-Missouri Fisher House
The Mid-Missouri Fisher House is a beautiful "home away from home" for the families of Veterans and military service members receiving care at the Truman VA Medical Center. The Fisher House provides temporary lodging in a comfortable and relaxed setting only steps away from the Medical Facility. Guests can stay at the Fisher House at no cost for as long as their loved one is hospitalized.
Amenities
The Fisher House creates a warm and compassionate environment for families to find support from others in similar situations. Caring staff and volunteers are available to assist guests. The Mid-Missouri Fisher House is a 3-story, 15,000 square foot home which offers 16 spacious private guest rooms, each with a private bath-room. Each room has a TV, DVD player, alarm clock, hair dryer, internet connection and telephone for local calls. Guests share the fully equipped, gourmet kitchen, dining room with seating for 26, living room with library, family room with a flat screen TV and out-door patio. Other features include modern laundry facilities, Wi-Fi in the common areas, and wheelchair accessibility.
Guests
Mid-Missouri Fisher House welcomes guests who:
Have a loved one receiving care at the Harry S. Truman Memorial Veterans' Hospital
VA providing service or authorized by Care in the Community.
Live 50 miles or more away from the medical facility
Are able to stay in a non-medical, unsupervised setting
Follow all Fisher House Rules and respect fellow guests and Fisher House.
Families seeking Fisher House lodging should contact the Veteran's social worker or VA provider for a consult. Guests rooms can accommodate up to four (4) guests per room. Reservations are not accepted. We strive to accommodate all requests for lodging. We recommend checking availability before arriving.
Donations
Be a part of the Fisher House mission!
Mid-Missouri Fisher House relies on support from individuals and groups to provide for the ongoing, daily needs of the Fisher House, enhance the stay of Fisher House guests and expand our programs. To find out how you can support our military and Veterans' families at Mid-Missouri Fisher House as a volunteer or with a donation, please contact 573-814-6000 ext. 52538.
Monetary donations to the Mid-Missouri Fisher House can also be done online. Please select "Columbia, MO - Harry S. Truman VA Medical Center" as the facility and "General Purpose" as the program for donation, then fill out the Donor Intent and put in "Fisher House". 
Fisher House Wish List
Click the link below or scan the QR code to donate supplies from our Amazon wish list:
What criteria must one meet to stay at the Fisher House?
Fisher House guests must be family members, caregivers, or loved ones of a hospitalized Veteran or Service member who live 50 miles or more from the Medical Center. Guests must be able to care for themselves or be accompanied by a caregiver. 
How many rooms are there and what will it cost the guest?
There is no charge to stay in one of 16 suites. 
Are dining facilities available?
The Fisher house has a spacious dining room and a well equipped kitchen for guests to use. Some food items are provided through community donations, but guests should be prepared to purchase their own groceries. Individualized refrigerator and storage space is provided. 
How does one ask to stay at the Fisher House?
Discuss with your social work or clinical team as a consult must be placed to initiate the request. 
Is my room guaranteed after a consult is placed?
A room cannot be guaranteed after a consult is placed. Confirmation of a room is based upon availability. The potential guest will then be contacted the day before an intended arrival to confirm a room.