Colorado Avalanche celebrates win with Veterans, VA staff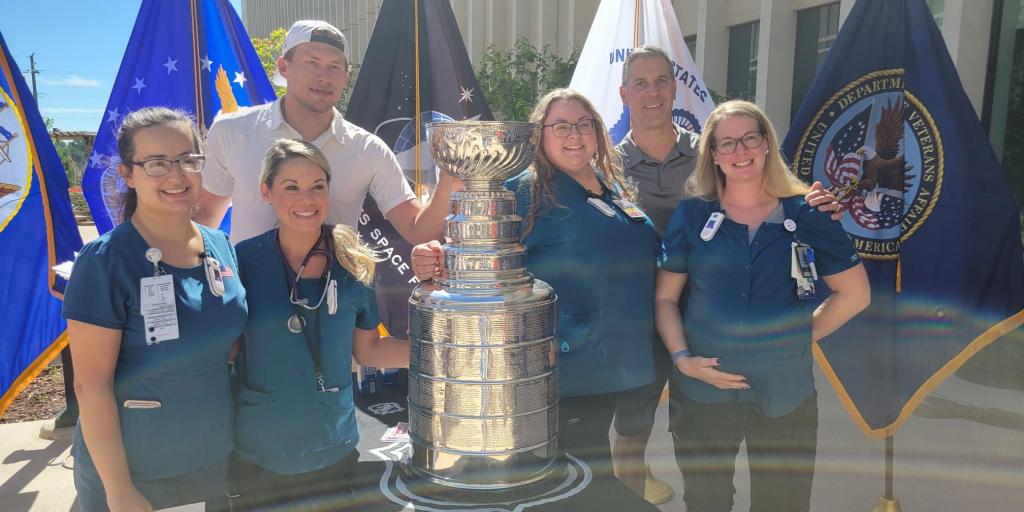 VA ECHCS nurses take photographs July 4 with Erik Johnson, Colorado Avalanche defenseman, and Jared Bednar, head coach, at Rocky Mountain Regional VA Medical Center in Aurora. Avalanche won the NHL Stanley Cup during a finals game June 26 in Tampa, Florida.
Veterans got a surprise visit July 4 at Rocky Mountain Regional (RMR) VA Medical Center in Aurora. Jared Bednar, Colorado Avalanche head coach, and Erik Johnson, defenseman, decided to visit and bring the Stanley Cup with them.
The visit to RMR VA Medical Center in VA Eastern Colorado Health Care System (ECHCS) was the brainchild of Johnson, who wanted to show support and appreciation to the nation's Veterans and to recognize their sacrifices on Fourth of July.
"Being an American, I thought [doing this] on the Fourth would be extra special," Johnson said. "It was fun for me to come down here and see some real heroes of our country and to just have them get some signatures and pictures with the Cup is extra special."
Colorado Avalanche became professional hockey's new champions after defeating the Tampa Bay Lightning during an NHL Stanley Cup finals game June 26 in Tampa, Florida. It's the team's first championship win in 21 years and third Stanley Cup.
While touring the medical center, Bednar was amazed at all of the initiatives and care options offered to Veterans.
"Fourth of July always makes you think of the people who serve our country and the sacrifices that they make," Bednar said, adding that it felt good to meet everybody, including the staff members.
"All of the hours that they put in to help our Veterans – it just feels good to be able to bring the Cup to them."
At the close of the visit, Bednar and Johnson exchanged gifts with VA ECHCS Associate Director Thomas Talamante.
Talamante said the medical center will proudly display a jersey containing signatures from the Cup-winning team, as well as a sign from the Avalanche's dressing room.
"We found out about this yesterday afternoon," Talamante said. "The team scrambled together to get everything set up in the courtyard. It was great, and what a morale booster for our staff and, most importantly, our Veterans."
Once word got out, a lot of people came down to meet Bednar and Johnson.
"It was a great event, and we're very grateful, said Talamante. "Congrats to the Avs on a great Stanley Cup victory."
See all stories