Stories
Read about what's happening in our VA Eastern Oklahoma health care community.
Tribal Nation representatives from VISN 19 and VISN 23 visited the Jack C. Montgomery VA Medical Center in Muskogee to attend Tribal Veterans Representative training Nov. 7 – 10.
Veterans it's time to get a flu shot and VA has you covered!
Starting Aug. 8, 2022, the Eastern Oklahoma VA Health Care System will begin offering the Novavax COVID-19 vaccine to unvaccinated Veterans, spouses of Veterans, caregivers, CHAMPVA recipients, and employees.
Veterans now have the option to Dial 988 then Press 1 to connect with caring, qualified responders for 24/7 crisis support.
When Navy Veteran Jack Pinkston had a heart attack 12 years ago, he had to undergo a quadruple bypass. This marked the beginning of a long journey that he and his spouse would travel together, with the help of VA.
When the Muskogee Art Guild got a call from the Eastern Oklahoma VA Health Care System (EOVAHCS) asking if they would like to decorate guitars for Veterans, their immediate response was yes.
Veterans, did you know that you can now check-in to your VA appointments from your smartphone?
Veterans undergoing procedures in the Endoscopy Clinic are required to have a driver accompany them to their procedure and also drive them home. But arranging for someone to accompany them is not always possible.
The Jack C. Montgomery VA Medical Center (JCMVAMC) is pleased to announce that it has been named a top performer in the Human Rights Campaign Foundation's 15th anniversary edition of the Healthcare Equality Index (HEI).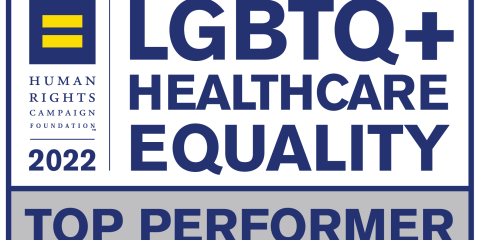 Robert Rodriguez played his first round of golf at the age of 29 while still in the U.S. Air Force. He quickly fell in love with the game.