Stories
Read about what's happening in our VA Eastern Oklahoma health care community.
The Center for Development and Civil Engagement (CDCE) is on a mission to enhance the Veteran Patient experience at the Eastern Oklahoma VA Health Care System.
Last fall, the Oklahoma City VA Health Care System and Eastern Oklahoma VA Health Care System began using innovative antimicrobial technology involving silver ions to combat harmful bacteria, mold, and mildew in their hospital laundries.
The Eastern Oklahoma VA Health Care System invites our local communities to recognize and honor our hospitalized Veterans from Feb. 13-19 during National Salute to Veteran Patients week.
On Dec. 21, 2021, the Oklahoma Department of Health announced that the highly contagious Omicron variant had officially been detected in the Sooner State.
There is a lot to remember when it comes to managing your prescriptions. For Veterans, VA staff is always ready to answer any questions you may have about getting refills, drug interactions and possible side effects.
Off and on for more than 28 years, Air Force Veteran Norman Blackwell has been fighting cancer.
They were pioneers during a time their country needed them most, yet they were also America's best kept secret until recently. The Women Air Force Service Pilots of World War II paved the way for women in the military today. 100 year old WASP Veteran Nell Bright is the epitome of Upholding Valor.
Throughout the Eastern Oklahoma VA Health Care System, everyone worked tirelessly to care for our Veteran population as the COVID-19 pandemic arrived in the United States.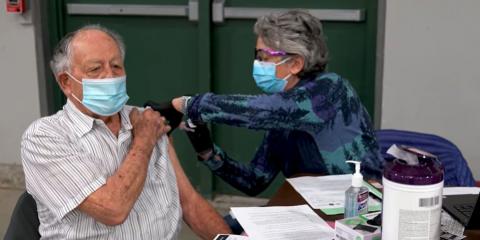 The Eastern Oklahoma VA Health Care System's Black Employment Committee is hosting a Christmas Dinner for Veterans without families on Dec. 19 from 3 to 5 p.m. at the Jack C. Montgomery VA Medical Center.
The Eastern Oklahoma VA Health Care System will host a Telephone Town Hall for Veterans living in the Vinita area next Thursday, Dec. 16, 6 p.m. to discuss the future of the Vinita VA Outpatient Clinic.