Stories
Read about what's happening in our VA Eastern Oklahoma health care community.
On Dec. 27, 2020, the president signed a law approving $120 million in federal funding for a new Veterans Hospital in Tulsa (VHiT), which will be the first hospital to be built under the Communities Helping Invest through Property and Improvements Needed for Veterans Act of 2016 (CHIP-IN Act).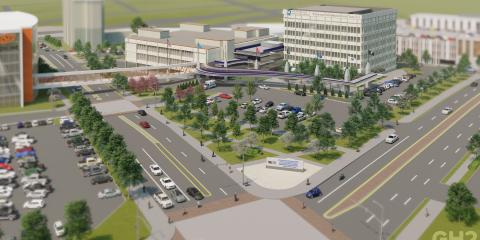 Beginning November 2, 2020 Veterans, caregivers, and beneficiaries who are eligible for reimbursement of mileage and other travel expenses to and from approved health care appointments can now enter claims in the new Beneficiary Travel Self-Service System (BTSSS).
VA recognizes the critical role family caregivers play in enabling Veterans to stay in their homes, surrounded by their loved ones. That's why VA has announced the expansion of the Program of Comprehensive Assistance for Family Caregivers (PCAFC).
Veterans not currently eligible for VA health care, spouses, caregivers and CHAMPVA beneficiaries can receive a COVID-19 vaccine through the Eastern Oklahoma VA Health Care System.
The Eastern Oklahoma VA Health Care System (EOVAHCS) will open the new Ernest Childers VA Outpatient Clinic on July 19, 2021 at 8921 S. Mingo Rd. in Tulsa. The new facility will replace the current Tulsa clinic at 9322 East 41st Street.