Stories
VA Greater Los Angeles Healthcare System top stories.
At the newly opened Summit View apartment complex in Sylmar, Calif., 48 formerly homeless Veterans enjoy an expansive water view and array of amenities in a rustic, yet contemporary setting.
As the work leader carpenter at the West Los Angeles VA Medical Center, Army Veteran Daniel Martin takes great pride in fixing things. "Danny," as he prefers to be called, repairs drywall, hangs doors, and generally beautifies Building 500 for patients, staff, and visitors.
For many Veterans returning to civilian life, knowing what benefits and services they're eligible for can be a challenging task. The maze of options can be overwhelming for even the most connected Veterans.
At VA Sepulveda Ambulatory Care Center, a Hero's Corner is rapidly taking shape. With newly installed outdoor exercise equipment, a renovated track and an expanding green space populated with tables, plants and pergolas, it's becoming a respite and recreational area for Veterans in the community.
From ornate headdresses to multi-colored ceramic bowls and vibrant, paint-splashed canvases, art was on full display at the Annual Veterans Creative Arts Festival, a VA event that brought Veterans together with the exciting opportunity to earn national acclaim.
Veterans are learning new artistic techniques as they establish a sense of community and share what is in their hearts and on their minds during the monthly Paint & Snack workshop held at the Heroes Golf Course.
The electric sounds of rock music reverberated through the West Los Angeles VA Medical Center campus as several Veterans strummed guitars and played keyboards under the afternoon sun.
Veterans from all walks of life flood into the "Express Yourself" dance class in the heart of the VA's West Los Angeles Medical Center.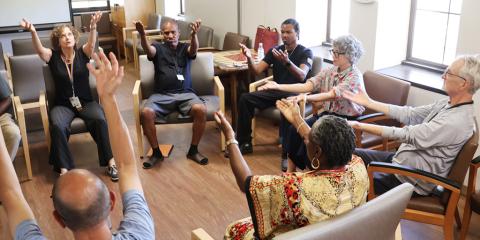 With increased housing costs, rising inflation and the end of eviction moratoriums, many regions across California are experiencing increases in homelessness, both among Veterans and the general population.
The sounds of Veterans slapping bongo skins fill the air, creating a rhythm that echoes through the West Los Angeles VA Medical Center campus near the Integrative Health and Wellness Center.