Stories
VA Greater Los Angeles health care top stories.
"O 70!" "B 2!" "A 12!" Letters and numbers ring out across the room as several dozen Veterans rush to adjust their bingo cards.
Getting a copy of a driver's license or birth certificate can be frustrating, taking time and money. But it's certainly not an insurmountable task.
On May 2, 2023, elected officials, dignitaries, community leaders, advocates, Veterans and VA staff gathered at the West LA VA for a ribbon-cutting ceremony to celebrate two new permanent supportive housing buildings for formerly homeless Veterans on campus.
At the Veteran's Garden on the West LA VA campus, getting your hands in the dirt is a therapeutic exercise. After a hiatus, the blossoming space is coming back to life as a healing tool and nutritional resource for Veterans.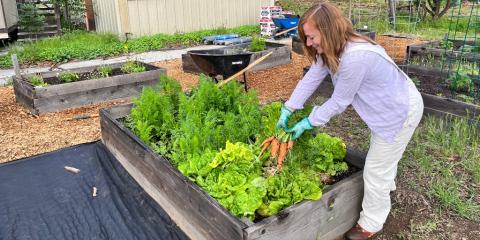 When President William McKinley visited the National Soldier's Home on its dedication day in 1901, he would arrive by steam train. That line, later used by the Red Car, would be no more by 1933. That would be the last time the West LA VA campus would be accessible by train. This is soon to change.
Working out – particularly as part of a group – can be a healing experience, says Marine Corps Veteran Raymond Navarro, fitness facilitator and coach at the Veterans Center for Recreation and Education (VCRE) on the West LA VA Campus.
The Department of Veterans Affairs (VA) is on a mission to end Veteran homelessness.
Before the West LA VA Medical Center, and before the Department of Veterans Affairs even existed, the West LA VA campus was serving Veterans as the Western Branch of the National Home for Disabled Volunteer Soldiers.
At the lush Heroes Golf Course at the West LA VA, Veterans take in the fresh air and the serenity. Instead of the usual "fore," they softly chant "om" with their eyes closed as they engage in a lesson on meditation.
Breakfast and lunch are served! For Veterans and employees on the West LA VA campus looking for a morning or midday meal, the Veterans Canteen Service (VCS) in Building 306 has reopened following a renovation, offering enticing new options.