Stories
VA Houston health care top stories.
Veterans, service members and civilians are encouraged to take a 50-second self-screen, June 27, on PTSD Screening Day for posttraumatic stress disorder.
Cardiologists at the Michael E. DeBakey VA Medical Center in Houston are using new technology to improve the lives of their Veteran patients.
Army Veteran Carl Haaland is a grateful man. The Petersburg, Alaska native was visiting family in the Houston area last spring when he started feeling ill.
While serving in the U.S. Air Force, Alexander Brown was diagnosed with multiple sclerosis and was medically retired after serving nine years.
The Houston VA Medical Center will hold a virtual National Cancer Survivors Day event on June 7 on Microsoft Teams.
VA is now offering you immediate access to on-demand mental health and wellbeing support provided right in the comfort of your home.
At the age of 18, Marine Veteran Mark McLean deployed to Iraq in what was just the first of many combat deployments.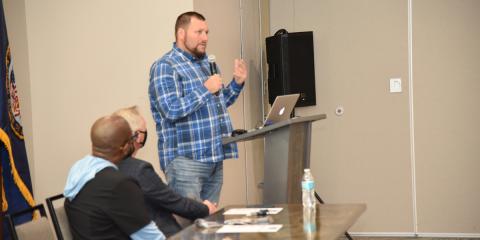 Army Veteran Rachel VanDeMark recently got a colorful and special surprise when she arrived for her appointment at the Humble VA Outpatient Clinic.
VA invites the public to attend a Memorial Day Ceremony at Houston National Cemetery on Monday, May 30 at 9 a.m.
The Houston VA Spinal Cord Injury team recently conducted a review of research from 2016 to present that has examined approaches to Telehealth and Telerehabilitation for patients with spinal cord injuries.