VA Teamwork helps an Out-of-State Veteran in Need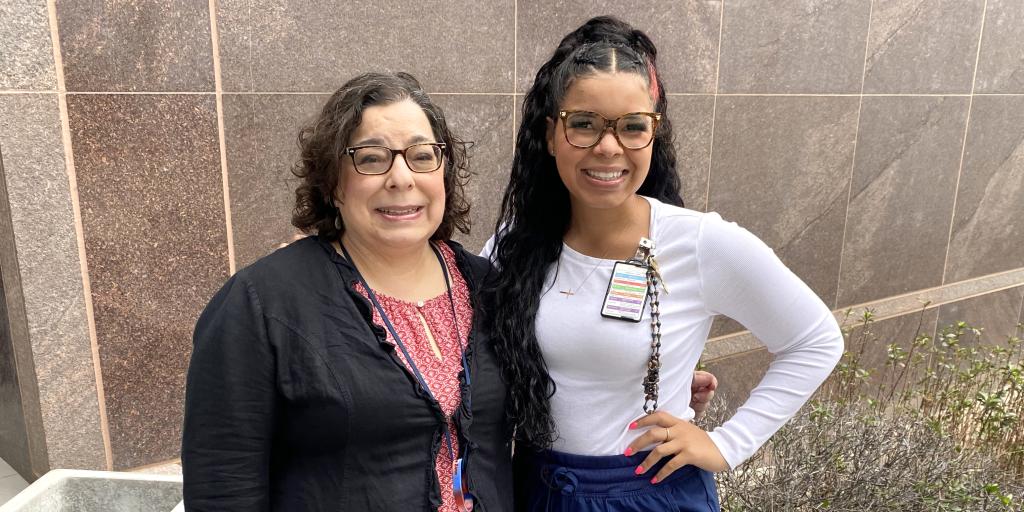 Homeless Veterans Program Social Workers Monique Thibodeaux-Jackson (left) and Alexis West quickly responded to the dire needs of an out-of-state Veteran.
Social workers from two VA Medical Centers, located across the country from one another in Virginia and Texas, recently successfully worked together to help a Veteran in need.
Late one afternoon in March, Houston VA's Homeless Veterans Program Social Work Supervisor Monique Thibodeaux-Jackson, LCSW, received a call that an out-of-state Veteran was in Houston, in distress and needed help.   She and her coworker Alexis West, LCSW, immediately sprang into action.
"When VA's National Rideshare Program Manager Charles Franklin called and said he had a situation, I knew it must be important," said Thibodeaux-Jackson, who found herself drawn to working with homeless Veterans after living in Los Angeles, Calif. "We usually get most of our intake calls from local partners and our local community."
Franklin added Lindsey Marano, the HUD-VASH supervisor from the Central Virginia VA Health Care System in Richmond to the call and they began to explain the issue. One of the Richmond VA's vulnerable Veterans had decided to hop on a bus to Houston and eventually became disoriented and homeless for several weeks.  The Veteran had finally reached out to his Richmond social worker for assistance and was unsure where he was or how to seek help in Houston.   
With limited, vague information about the exact location of the Veteran, West, with the help of google and her knowledge of the Houston area, began searching for the Veteran.  She located him about 30 minutes later at a nearby Subway sandwich shop.
"I was thrilled when I found the Veteran," said West.   "He said he wasn't feeling well so I brought him to the Houston VA Emergency Department to get checked out, all the while keeping the Richmond HUD/VASH team updated as to what was going on."
The U.S. Department of Housing and Urban Development-VA Supportive Housing (HUD-VASH) Program is a collaborative program which pairs HUD's Housing Choice Voucher (HCV) rental assistance with VA case management and supportive services for homeless Veterans. These services are designed to help homeless Veterans and their families find and sustain permanent housing and access the health care, mental health treatment, substance use counseling, and other supports necessary to help them in their recovery process and with their ability to maintain housing in the community.
While the Veteran was in the emergency room, the two Houston VA social workers began working on temporary housing for him so he would have somewhere to stay if he were discharged from the VA that evening.   Thibodeaux-Jackson locked in a room for him under VA's Grant and Per Diem Program just in case he needed it.
The Veteran was admitted to the Houston VA and upon his release he ultimately decided to return to Virginia.   The VA's national ride share program made travel arrangements for him back to Virginia on a bus.
"What happened on that Friday afternoon was a miracle," said Marano.   "The Houston VA social work team really got the job done.  It is not very common for all the pieces to fall into place so quickly and it says a lot about the strong network between VA homeless programs across the country and our universal commitment to our Veterans!"
The Veteran is now safely back at his home in Virginia and has reassured the Richmond HUD-VASH team that he has no plans to travel again any time soon.
See all stories