Stories
VA Jackson health care top stories.
The G. V. (Sonny) Montgomery VA Medical Center hosted a spring hiring fair on Saturday, April 22, to aid in the V.A.'s mission to hire 52,000 new employees during the fiscal year 2023.
The G. V. (Sonny) Montgomery VA Medical Center's Office of Community Care has unveiled a new Customer Service line to make it easier for Veterans and their families to get assistance.
The aftermath of the EF4 tornado that hit Rolling Fork and Silver City, Mississippi, was devastating. Still, the G. V. (Sonny) Montgomery VA Medical Center's staff quickly mobilized to help veterans in the area.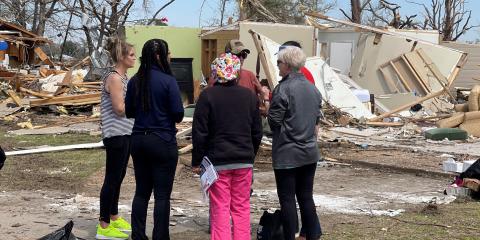 Due to the impact of the recent tornadoes, the United States Postal Service (USPS) and United Parcel Service (UPS) may experience delays in delivering mail to certain areas in Mississippi.
G. V. (Sonny) Montgomery VA Medical Center's (GVSMVAMC) Community Living Center (CLC) is proud to announce that it has achieved an overall five-star rating as part of the VA CLC Compare, a mechanism used to benchmark VA CLCs against private sector nursing homes.
Veterans, Caregivers, and Stakeholders – Please take a moment to review our fiscal year 2022 Annual Report. This report includes an overview of our facility, the accomplishments of our staff, and a detailed look at the care we provide to our Veterans.
Screening and prevention can make the difference in keeping good vision and avoiding blindness. As we age, our eyes can become less efficient in draining waste and can result to intraocular pressure that can inhibit vision and damage our optic nerves. If left untreated, the pressure can lead to damaged vision or sight‐loss at worst. In most cases, signs of
Registered Dietitian Nutritionists (RDNs) are the food and nutrition experts. RDNs have special training to offer medical nutrition therapy and work as part of the health care team or Primary Care Aligned Care Team (PACT) in the treatment and prevention of disease.
The Health Promotion Disease Prevention (HPDP) Program is one of the most powerful tools for Veterans and their caregivers to improve the overall well-being of the Veteran.
G.V. (Sonny) Montgomery VA Medical Center in Jackson, Mississippi is looking for Registered Nurses (RN) for the Community Living Center (CLC)!