A great escape: Simulation uses puzzles to teach important protocols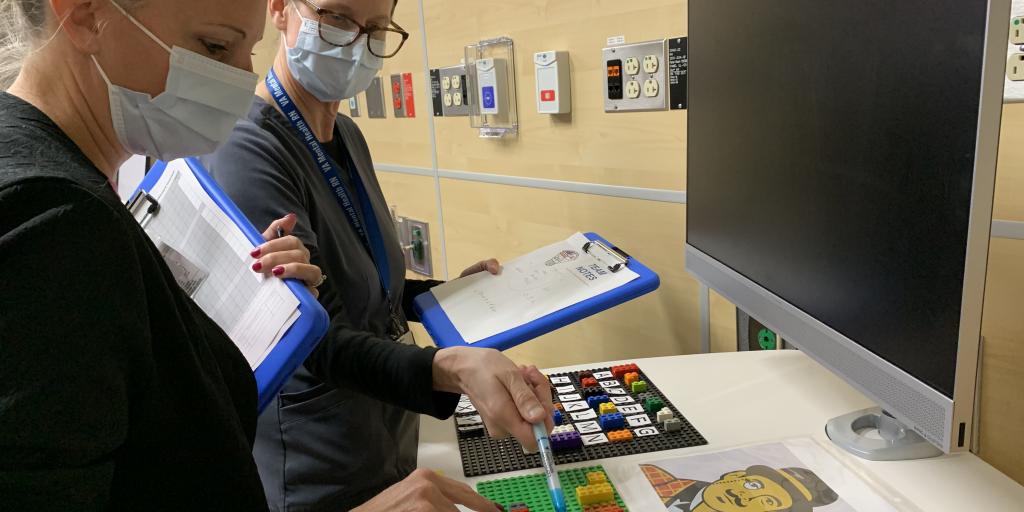 Milwaukee VA Registered Nurses Jessie Modrow, left, and Heather Jones solve a puzzle during the escape room education simulation.
What do Legos, lockboxes and crossword puzzles have to do with nursing education?
Quite a bit when it comes to an innovative educational experience at the Milwaukee VA Medical Center that has earned national recognition.
To better teach nurses about new alcohol withdrawal treatment protocols, Clinical Nurse Leader Meghan Lorbiecki knew a PowerPoint presentation or lecture wasn't the way to go. She worked with Simulation Center Program Manager Tina Smith to create an interactive, fun simulation-based education activity to teach the treatment protocols: an escape room.
In an escape room, participants must solve riddles and puzzles in order to gather clues and exit the room.
The escape room Lorbiecki and Smith concocted requires nurses to apply their knowledge of the alcohol withdrawal protocols in order to solve the various riddles and puzzles and thus render appropriate treatment to the patient after completing patient assessments.
"I was trying to find something that was different," Lorbiecki said. "You're not just reading a PowerPoint or doing a TMS (Talent Management System) module. It's something fun and engaging. It isn't meant to be scary or intimidating."
A lockbox
It all starts with a lockbox.
Working in teams of two or three, nurses must deduce the lockbox's combination from a set of clues. Once done, they learn they have two patients with differing symptoms related to alcohol withdrawal. They consult with each other to determine patient acuity and who needs to be seen first. Each bit of information leads to other puzzles to be solved.
"With one patient, we focused on deciding what medication was appropriate. For the second patient, we were (looking at) loading dosing," Lorbiecki said. "I think having two patients was the key to success, because it would have been too complicated to do it with just one."
Once in the rooms, the nurses encounter crossword puzzles, jigsaw puzzles and an anagram puzzle involving Legos. There are visual clues in the room, and the patients (played by actors) provide valuable information – either through their actions or words.
Completing the challenges correctly leads them to the proper treatments for the patients.
After the escape, the learners participate in a debriefing session, where Lorbiecki helps the nurses look at what occurred and interventions taken for each of the patients, to further understand decision-making and choices made by the nurses.
"The debriefing really makes the difference," Smith said. "They learn from each other when debriefing occurs and are able to gain understanding and perspective.
"You just have to figure out where the staff members are coming from … and then modify their frame of reference so they can better manage the patient and understand the decision made," Smith said. "If you never find out where the learner is coming from, then you're just going to tell them how to change but they're never going to change because they don't feel impelled to accept responsibility for that change."
Changing behavior
More than 40 nurses have completed the escape room, and analysis of actual patient interactions and outcomes has proven that the exercise is accomplishing its goal, Smith said – changing behavior.
"We have data that supports that we (accomplished) all four levels of Kirkpatrick education evaluation, with return on investment as the highest level," Smith said, noting there have been no adverse patient outcomes since the education and revised order set were instituted. "It's a rarity you can cover all four levels of evaluation."
Registered Nurses Steve Thompson and Nan Hillert recently completed the training and said they came away with a better understanding of the new alcohol withdrawal protocols.
"It was a little nerve racking; I didn't know what we were going to do with all these little clues," Hillert said. "But it was fun, and it was a really interesting way to learn."
Thompson agreed.
"It helps you think about what you're doing, and what you need to do," he said. "Playing games and having to look for information helps you retain it better."
And that's the goal, Smith said.
"They're teaching themselves," she said. "And if you get them to do that, then they can apply it to real patient care."
Proving effectiveness
Using escape rooms as a teaching tool isn't new; Smith said the concept has been around in the medical education community for about five years, gaining more traction in recent years.
But while escape rooms can be fun, the exercise has to be educational. And there has to be data and evidence that backs that up.
When developing the exercise, Smith and Lorbiecki went through a number of test runs, constantly tweaking and reworking to make sure everything worked together toward the goal.
"It is a lot of work, developing all the clues and making sure they line up and follow the right order — and making sure the learner will understand it," Lorbiecki said.
"We were committed, knowing that if we did this the right way, we had a better chance to get the right result — which was that they learned (the protocols), they could apply them to their real patients and we wouldn't see any adverse outcomes," Smith said.
National recognition
As more nurses went through the escape room, word spread about its innovation and effectiveness — so much so that High Reliability Organization Program Manager Lindsey Liddell asked Lorbiecki and Smith to submit it for the local HeRO award. The awards are given to outstanding projects and people who support the principles of High Reliability.
After earning local recognition, the HeRO nomination was submitted regionally and was then chosen to represent VISN 12 at the national level. The escape room was proclaimed a national winner in the Clinical Team category last month.
"The National HeRO Award is the highest level of High Reliability Organization recognition available within VHA," Laddell said.
"Simulation is a key tool in advancing our High Reliability efforts, and Tina and Meghan's work clearly demonstrates their commitment to our Veterans and staff."
Smith and Lorbiecki said they were surprised, but honored, to receive the recognition.
"It felt rewarding, knowing all the time and effort we put into it," Lorbiecki said. "We wanted to make something engaging and informative. We weren't even thinking it would go this far."
Smith agreed.
"We feel honored," she said. "It's rewarding to know that the work we are doing is appreciated by the organization and that they feel confident in what we've done."
The training is open to all nurses, and a virtual option is available as well.
"We want to spread this to as many nurses as possible within the entire VA, either virtual or in person," Lorbiecki said.
Smith and Lorbiecki have submitted their work for publication and have shared it at the VA National Nurse Practice Council and outside VA at the Association for Nursing Professional Development annual convention in Texas and locally at the Building Bridges to Research-Based Nursing Practice Conference in Milwaukee.
The poster displayed at those conferences included a QR code that other nurses could scan and instantly download the toolkit so they could run their own escape rooms.
"Our intent was not to keep this for ourselves but to share it with others so people would know how to create an escape room, and then see how something could be really innovative and really help learners learn," Smith said.
See all stories