Milwaukee VA seeks to better connect with Native American Veterans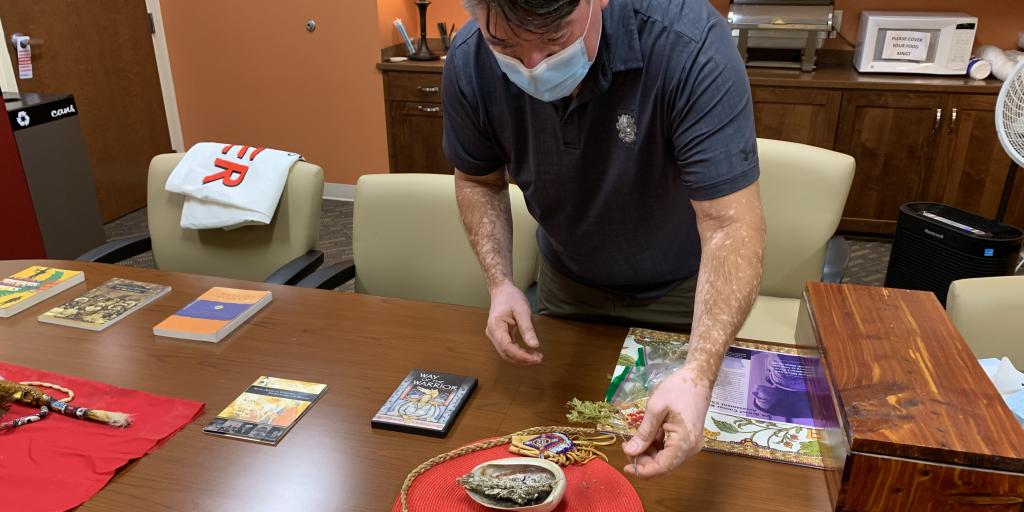 Rodney Pearsall, a counselor and Native American outreach specialist for the Milwaukee VA, shows the four sacred medicines of Wisconsin's Native American nations: sweetgrass, cedar, sage and tobacco.
We know different cultures have different beliefs, and to render the best care possible, health care providers should understand and respect those beliefs. It should be no different for Native Americans, according to Rodney Pearsall.
Pearsall, a Readjustment Counseling Therapist with the Milwaukee VA, wants to improve care for Native American Veterans, and a big part of that is educating health care providers and others about the traditions and beliefs of a group that is often misunderstood and stereotyped.
"There are so many cultures in life. It's important for Native Americans to be understood as a culture," Pearsall said.
"Many Native Americans still follow those traditional ways, with their culture and ceremonies. Understanding the history, culture and traditions improves our ability to engage with Native American Veterans."
A first step toward fostering better understanding of Native American Veterans will be a lunch-and-learn session set for noon Nov. 9 at the Milwaukee VA. During the session, Pearsall will explain some Native American traditions, history and customs and emphasize why they are important in health care.
He hopes to offer similar sessions on a bimonthly basis.
The sessions are part of Pearsall's new role as Native American outreach specialist for the Milwaukee VA. Few VA medical centers have such a specialist, and Pearsall's primary goal is educating hospital staff about the particular needs and beliefs of Native Americans.
"VA reached out to me because they wanted to improve their care for Native American Veterans," said Pearsall, 57, who belongs to the Chiricachua Apache Nation. "I go out and find out what the needs are, and then we work at addressing those needs."
In the coming months, Pearsall plans to meet with the 12 Native American nations in Wisconsin. In addition, he's working with the Gerald L. Ignace Indian Health Center in Milwaukee, with the goal of making the center part of VA's community care partnership.
"My job would be to reach out into the community and find traditional care people who could come in and provide traditional care, like a cleansing or going to a sweat lodge," he said. "A lot of times we have to go to the community to meet those needs."
Native Americans have the highest military enlistment rate of any culture, according to Pearsall, who said the reason is twofold: Many see the military as an extension of the Native American warrior, protecting the community and the land. Others see the military as a way out of the poverty and lack of opportunity on the reservation.
At the same time, there's been little effort put forth by VA to understand Native Americans' unique culture and incorporate that into providing care and benefits.
"There's always been a need, but we've never had a working relationship (with Native Americans)," Pearsall said. "How do you engage a culture of which you have no education or knowledge? That makes it really hard."
Pearsall can cite numerous incidents in which a lack of knowledge of Native American customs led to incorrect assumptions or adverse outcomes for the Native American:
A Native American Veteran living in a VA domiciliary in Michigan was expelled after he took part in "smudging," a Native American cleansing technique.
A Native American service member had his eagle feather and pouch of sacred medicine confiscated by his commanding officer. Pearsall said these items are protected religious property according to the American Indian Religious Freedom Act.
"Education plays an important role in care," Pearsall said. "We have to ask, 'How has this particular culture dealt with mind, body and spirit? What customs and traditions do they have?'"
Pearsall said he wants Milwaukee VA staff to reach out to him with any questions they may have regarding Native American Veterans. He wants to make sure no one mistakenly offends any Native American Veterans due to lack of knowledge of their culture.
And he wants to provide resources to staff so they can learn and get what they need to better serve these Veterans.
"The overall goal is improving care — physical, emotional and spiritual," Pearsall said. "Understanding the culture, history and traditions of Native Americans is very important; it shows respect and that you care."
See all stories