Stories
VA Milwaukee health care top stories.
To promote healthier options, subtle changes are taking place in the Milwaukee VA Medical Center Canteen.
Luther Williams became legally blind 28 years ago. The now 85-year-old Veteran, who served as a firefighter in the U.S. Air Force from 1957-1961, had to figure out a new way of life without his vision.
A 19th-century building on the Milwaukee VA grounds is being torn down, but don't expect a dramatic demolition.
The Beneficiary Travel Self-Service System allows Veterans to get paid faster for travel costs. Check out the following Q&A to learn more:
Marie Julia Pfeiffer almost didn't join the Coast Guard during World War II because her mother didn't approve. But the then 23-year-old felt serving in the Women's Reserve of the U.S. Coast Guard would be an appropriate way to honor her brother, who had died in the line of duty in Saipan.
Breaking down walls and building relationships.
Quiet reflection. Meditation. Prayer.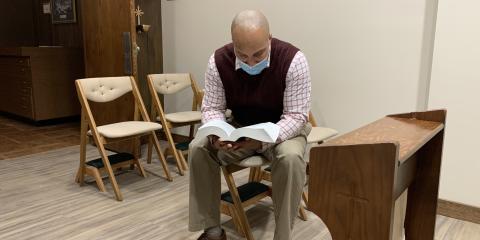 Reaching Veterans and getting them connected to the benefits they have earned — as well as resources available to them — is the goal of an upcoming event led by the chaplaincy service at the Milwaukee VA Medical Center.