Stories
Read about what's happening in our VA Montana health care community.
Montana VA Health Care System is excited to celebrate the grand opening of the new David J. Thatcher VA clinic at 11 a.m. on Jan. 28 in Missoula.
They were pioneers during a time their country needed them most, yet they were also America's best kept secret until recently. The Women Air Force Service Pilots of World War II paved the way for women in the military today. 100 year old WASP Veteran Nell Bright is the epitome of Upholding Valor.
Throughout the Montana VA Healthcare System, everyone worked tirelessly to care for our Veteran population as the COVID-19 pandemic arrived in the United States.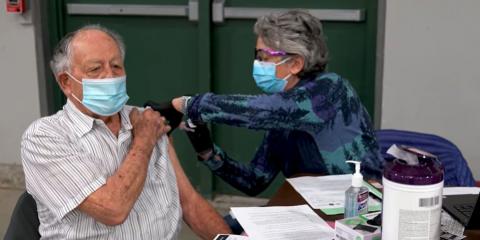 Helena, Mont.— The Montana VA Health Care System (Montana VA) launches its COVID booster shot vaccination campaign Nov. 4. Veterans and their spouses, household family members, and caregivers are eligible to receive the Moderna and Janssen (J&J) through Montana VA.
By getting the flu shot, we set ourselves up to be as healthy as possible. Plus, the healthy habits you have adopted—covering your cough, washing your hands often, and staying home when you are sick—will continue to protect us all as we enter flu season.
Dear Montana Veterans - You did it! As of last week, 10,000 Montana Veterans have decided to serve their friends, families, and neighbors and get their COVID-19 vaccine from MTVAHCS.
Pilot and VA employee Kevin Danz is right in the mix of the Howling for Health Care trend to recognize health care workers and first responders during the current health crisis.