Stories
Read about what's happening in our VA Mountain Home health care community.
The JHQVAMC increased access to care for Veterans by adding specialty care services to its Knoxville clinic network. The Knoxville VA Specialty Care Clinic opened July 18, 2022, and offers centralized specialty care in line with the VA's commitment to providing quality care to our nation's Veterans.
MOUNTAIN CITY, Tenn.— James H. Quillen VA Medical Center (JHQVAMC) held a ribbon cutting ceremony June 9, 2022, to officially recognize its Mountain City VA clinic.
State Senator Rusty Crowe of Tennessee's District 3 presented James H. Quillen VA Medical Center (JHQVAMC) with Senate Joint Resolution 1114 during a ceremony June 6, 2022, honoring the medical center for its recognition as a top hospital for nurse-to-patient communication by a national publication.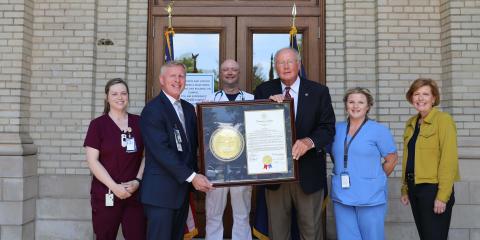 VA defines sexual assault as "behaviors, including but not limited to, a completed nonconsensual sex act, an attempted nonconsensual sex act, abusive sexual contact, and non-contact sexual abuse such as threats or harassment."
A Recipe of Commitment: Mountain Home VA Cares for Veterans One Meal at a Time
Manage stress, eat wisely, sleep well, be safe, limit alcohol, be involved in your health care, and be physically active.
Angelina Skiles, a social worker at JHQVAMC, receives a Certificate of Commitment for her participation in the Veteran Community Partnerships (VCP) program.