New Omaha VAMC Inpatient Kitchen Designed to Improve Workflow, Increase Veteran Service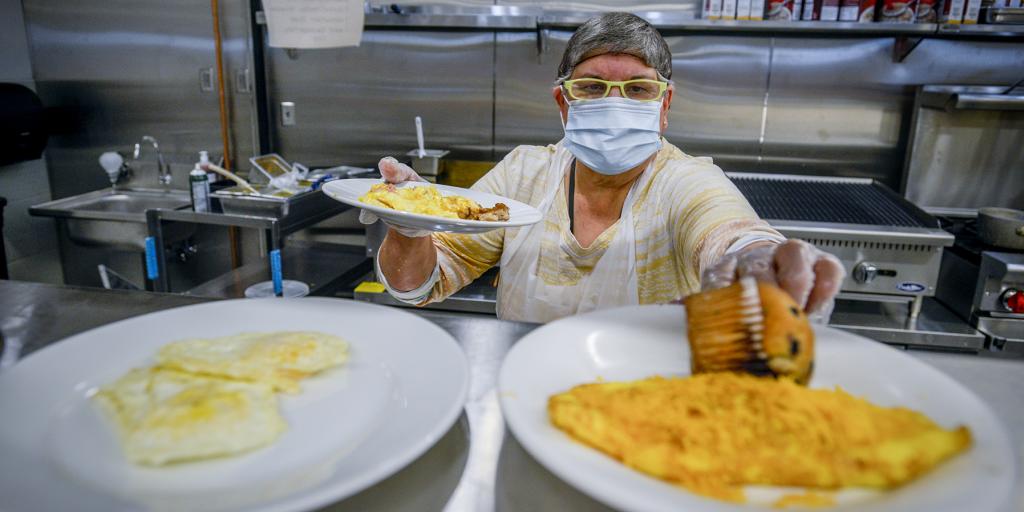 OMAHA, Neb. – After years of planning and more than a year of physical construction, the Omaha VA Medical Center put its eagerly-awaited newly redesigned inpatient kitchen into full operation today, Feb. 18.
OMAHA, Neb. – After years of planning and more than a year of physical construction, the Omaha VA Medical Center put its eagerly-awaited newly redesigned inpatient kitchen into full operation today, Feb. 18. Renovation Project Also Includes New State-of-the-Art Teaching Kitchen
Featuring an open concept, state-of-the-art equipment, and modern workflows, the new kitchen was designed to help VA Nebraska-Western Iowa Health Care System food service staffs provide even higher levels of service to Veterans who are inpatients at the VA hospital.
"The space is amazing. It's gorgeous," said Emily Kohls, chief of food services at the Omaha VAMC during a kitchen open house held for members of the VA hospital staff on Friday, Feb. 11. "I am chomping at the bit to get started in here."
According to Chaz Williamson, a VA Nebraska-Western Iowa Health Care System staff engineer who oversaw the $2.5 million kitchen and teaching kitchen effort, the project was much needed, especially considering that it had been more than 40 years since the kitchen had last been updated.
"We've been working on this particular project for years and years," Williamson said. "(The old kitchen) was just not laid out for modern food preparation methods. There were just a ton of issues."
Kohls agreed, saying that over the past 14 years she has worked at the Omaha VAMC, the kitchen became less and less able to provide the levels of food service required. "When I first came here, this was a huge space… a huge kitchen," she said. "But, over time it just kind of shrank. We were left with a space that wasn't laid out well. It was in some dire need of an update."
Those needs became even more acute when the Omaha VAMC shifted to providing inpatient room service in 2017. While that effort created a dramatic shift in the quality of food the Veterans received, it put even more stress on the kitchen staff, Kohls said.
"We were having to work with what we had. We didn't have things in quite the right spot," Kohls said. "It really created a lot of inefficiencies and made things a little harder on the staff. They just didn't have the tools they needed to be all the way successful."
A few years ago, Kohls said her department began working with Williamson and his team of engineers and architects to design a new, modernized kitchen space. Kohls said chief of among the requirements was creating a space that focused primarily on workflow that would enable the VA food service staff to function more efficiently.  
"(Having started the inpatient room service several years earlier) was actually a good thing because we had years of experience… to decide what we wanted to happen in here," Kohls said. "It really helped us make informed decisions. We knew exactly what works well and what doesn't."
Actual construction on the inpatient kitchen and a new "Teaching Kitchen" spaces began in late 2020. Williamson said engineers and construction specialists soon realized how big of a project they had in front of them.
"The space was essentially gutted…. everything was ripped out of it," said Williamson. "One of the bigger issues we encountered was the floor. As we removed the top layer, much of the subfloor came out as well. So, we had to create a new custom floor because of the draining issues that we also encountered."
Other things, such as moving kitchen hoods and airflow equipment, installing new electrical systems, and building a new dishwashing room, also had to be accomplished during the renovation effort. Additionally, smaller things, such as the installation of new LED lighting fixtures and lightening the kitchen finishes were included to help improve workflows and staff environmental conditions.
"It was a very conscious decision to make this a well-lit space," Williamson said.
The final improvements are immediately noticeable.
"I think it's an incredible space," Williamson said. "The teaching kitchen is just a beautiful facility for both our dietitians and our patients. It opens up a lot of opportunities for them to do online and streaming training."
"The main kitchen is just laid out so much better. Everything is designed to enhance the workflow where before we stuck equipment where it would fit," Williamson added. "This kitchen is designed for the way that Emily and her staff work."
Kohls agreed.
"I think it's going to have an incredible impact (on the staff)," she said. "They really take a lot of pride in what they do, and this will just make their jobs so much easier. They're going to have everything they need. Everything is going to be just so much better."
And that will contribute to even better service for the Veterans, Kohls said.
"Giving (Veterans) a choice is our number one goal," Kohls said. "Having the inpatient room service operational and letting Veterans be able to eat what they want, when they want it is really going to help improve their experiences while they are in the hospital."
"It will also allow us to really expand our menu and be able to offer just about anything (Veterans) want," Kohls added, saying these expansions could eventually include theme meals and monthly specials. "The goal and the vision are to give them really high-quality food that's good for them, healthy and helps them heal while they are in the hospital."
The head of the Omaha Veterans Advisory Group agreed, saying that for Veteran inpatients, food is an extremely important part of their healing processes.
"When you're in the hospital, you're lying there in your bed. You don't have anything to do, anywhere to go," said retired Air Force Chief Master Sgt. Dick Harrington, president of the Omaha Veterans Advisory Group. "So, three times a day, you're thinking about something… and that's food."
"It's important for health reasons… and it's important for your morale as well," Harrington said.
Harrington was one of those who were given a sneak-peak of the new kitchen and teaching kitchen on Feb. 11. He said the new improvements to the inpatient kitchen are impressive.
"Quite honestly, I'm kind of blown away," he said. "It exceeded my expectations."
According to Robert Hailey, VA Nebraska-Western Iowa Health Care System chief of Engineering, that was the goal.
"I think bottom line, it's going to just increase the quality of service to our Veterans by far," Hailey said. "It's going to be a complete night and day difference of what we were able to provide before."
"Plus, the service people who will work in this space can now have a healthier and safer environment than what they had before," he added. "Our goal is to improve the service to our Veterans and now we have the chance to do exactly that."
Kohls said the kitchen team was anxious to get to work.
"I've never seen them this excited before," she said. "It's been a long year working in a temporary space… but we're thrilled to be to be moving back into here again."
For more information, contact the Omaha VAMC Nutrition experts at: 402-995-4899
See all stories