Stories
VA Pacific Islands health care top stories.
VAPIHCS Veterans, Just a reminder to get your flu shots and COVID-19 Booster shots. VA Pacific Islands Health Care System (VAPIHS) is committed to community health.
VAPIHCS Veterans, VA Among Best Places to Work I'm pleased to share that VA has been named one of the Top Five Best Places to Work in the large federal agency category by the Partnership for Public Service. This is a great achievement, as this is VA's first time in the top five.
VA Pacific Islands Health Care System (VAPIHCS) is introducing a new check in option for appointments at care sites in Hawaii and American Samoa.
This weekend we celebrate our Independence Day. The United States of America is a country that is constantly working towards a more perfect union. In a few respects, we may have some distance still to travel. However, I am very proud to be a citizen of this great country.
Honolulu – Construction for a new public restroom and gravesite locator will begin Monday June 27th next to Columbaria Court 13. Please use caution in the area as construction fences will limit sightlines and make the driving lane tighter. This project is expected to be completed by February 2023.
VAPIHCS Veterans, In early March 2022, the White House announced an effort to further reduce financial hardships for Veterans by simplifying the process by which veterans can apply for medical debt relief.
VAPIHCS Veterans, If you have prescriptions that need to be disposed of, remember that you can ask your doctor to order you a Medication Disposal Envelope. Staff are able to order these envelopes through the Computerized Patient Record System (CPRS), and these envelopes are pre-paid for return.
VAPIHCS Veterans, Every June, VA and the rest of the nation come together to observe Pride Month. We are proud to celebrate the many invaluable contributions of the LGBTQ+ community throughout our nation's rich history.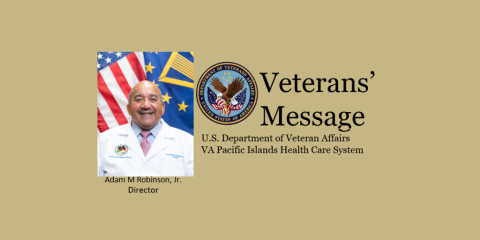 VAPIHCS Veterans, The recent shooting at Robb Elementary School in Texas caught me off guard, and made me take pause.
HONOLULU – Veterans Affairs Pacific Islands Health Care System is seeking caregivers for the Medical Foster Home (MFH) Program on Guam.