Stories
Read about what's happening in our VA Pittsburgh health care community.
A Louisiana-based Department of Veterans Affairs (VA) physician spoke to private health care providers in September at Montefiore Hospital about VA's campaign to end gender-based harassment in health care.
VA Pittsburgh Healthcare System and the Veterans Research Foundation of Pittsburgh hosted stroke survivor, author and advocate Ted Baxter to celebrate World Stroke Day.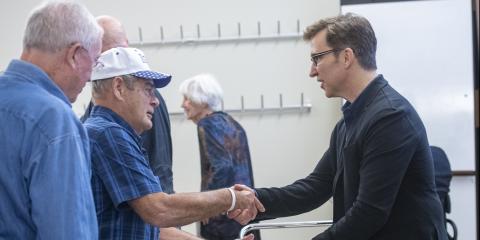 Veteran Nadine Stanford was in excruciating pain. Twenty minutes later, after a series of 10 small needles were placed in her ear, the pain was gone. Battlefield acupuncture is how it happens.
When the Navy called on women to volunteer for shore service during World War II to free up men for duty at sea, 102-year-old Melva Dolan Simon was among the first to raise her hand and take the oath.
A WWII Veteran's family has never seen a formal picture of him in uniform from his service in the Navy. VA Pittsburgh Healthcare System staff recently banded together to accomplish a seemingly impossible and very special good deed for a Veteran and his family.
VA Pittsburgh Healthcare System staff are now training community health care providers to help Vietnam-era Veterans on hospice who may be struggling with PTSD, moral injury or thoughts of suicide.
VA Pittsburgh Healthcare System's new state-of-the-art simulation center serves a critical role in improving Veterans health care.
Last week, VA engineers at the Human Engineering Research Laboratories (HERL) participated in North America's most influential 3D printing event in Detroit.
Swift action taken by VA nurse Karen Brodlo prolonged the life of an elderly woman.
Veterans scheduled for compensation and pension (C&P) exams at VA Pittsburgh Healthcare System's H.J. Heinz III campus can literally breathe a sigh of relief with the addition of same-day pulmonary function tests (PFTs).