Stories
VA Providence health care top stories.
Did you know that Christmas Eve and New Year's Eve, two of the most celebrated days of the year which occur in December, are among the deadliest?
Did you know that every two seconds, someone in the U.S. needs blood?
Do you know a Veteran that needs a warm coat for the winter?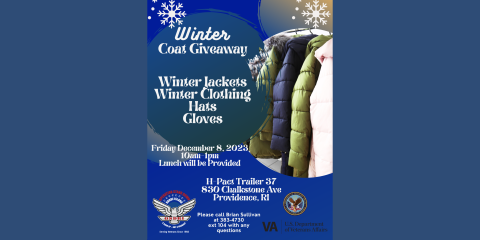 Earlier this week Director Connell provided remarks at Operation Stand Down Rhode Island's (OSDRI) new female homeless Veteran transitional home in Woonsocket, RI.
On Monday, November 20th, Secretary of Veterans Affairs Denis McDonough visited the VA Providence Healthcare System to meet with Veterans, facility leadership, and VA staff.
VA Providence Health Care had a special visit from the Boston Red Sox on November 10th, as part of the Veterans Day observance.
The Hyannis Community-Based Outpatient Clinic (CBOC) of the VA Providence Healthcare System celebrated Veterans Day with a special event called "Veterans Helping Veterans" on November 11, 2023.
November is National Family Caregiver Support Month, a time to recognize and honor the family caregivers who provide vital support to our nation's Veterans.
The VA Providence Healthcare System was featured on the The Rhode Show, WPRI (Channel 12), on Tuesday, November 7th, 2023.
On November 9th, VA Providence Healthcare System hosted a USMC Birthday celebration.