Advance Directives help Veterans plan for future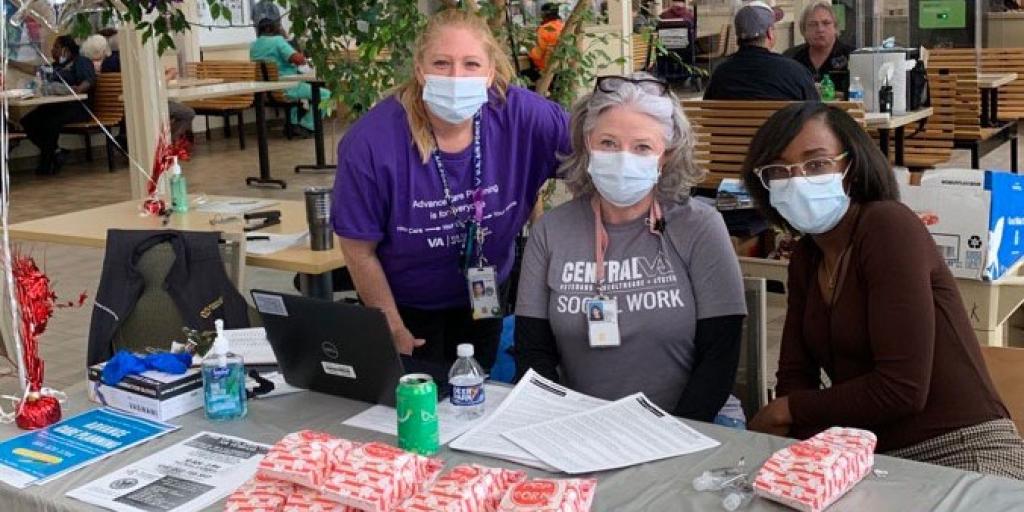 Jodie Cozad (left), Gretchen Sodamann and Querida Sarrer from Social Work Service, distribute information and outreach materials to Veterans, visitors and staff during the Advance Care Planning Fair held at the Central Virginia VA Health Care System, April 13, 2022.
Future health care decisions may not be at the top of everyone's to-do list, but in the case of a significant life changing event, it could turn out to be one of the most important decisions to make for yourself and your loved ones.
Thankfully, Central Virginia VA Health Care System (CVHCS) offers Veterans and caregivers the opportunity to plan ahead with an advance directive.
An advance directive is a legal document that designates who would make health care decisions in case an emergency arises, should you not be able to represent yourself.
CVHCS' Advance Care Planning Team hosts outreach events periodically to allow Veterans to take ownership of their health care decisions and create advance directives.
"In April, the team hosted an Advance Care Planning Fair, distributing information and providing real-time access to social workers to assist Veterans in completing their advance directives," said Erin Sellers, social worker and Advance Care Planning Program coordinator.
More than 100 people stopped by the event throughout the day, with more than two dozen Veterans completing an advance directive.
Advance Care Planning classes are available and give Veterans an opportunity to share experiences and discuss what they would want in their advance directive.
"The class we offer is another great way to learn about the nuances of Advance Care Planning with other Veterans," Sellers said.
Jodie Cozad, an Air Force Veteran and program support assistant for Social Work Service, participated in the Advance Care Planning Class last year, and found it beneficial.
"Before I started working with the Advance Care Planning Program, I really never thought much about completing an advance directive," Cozad said. "The experience helped me start the conversation with my family and begin to decide who I would want to speak on my behalf."
VA encourages Veterans to have an active role in their health care journey. Each April, CVHCS recognizes National Healthcare Decisions Day. To schedule for an upcoming class, call 804-675-5760. To learn more, visit: https://www.ethics.va.gov/for_veterans.asp
See all stories