Stories
Read about what's happening in our VA Tennessee Valley health care community.
This year has proven to be a challenge for many Americans, but for two Veterans at Tennessee Valley Healthcare System (TVHS), 2020 has a silver lining.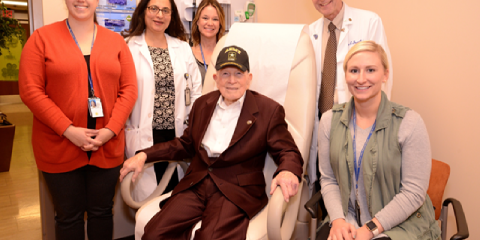 Eight years ago, Caroline Ward wanted to bring awareness to Veteran-related issues in a creative way.
When Dr. Daniel Birchmore learned he was the recipient of the Veterans Health Administration's most prestigious award he thought, 'Why me?'
For some Veterans, the holidays represent a time of loneliness and stress.
Despite being medically discharged from the Army, Tennessee Valley Healthcare (TVHS) Police Sergeant and Veteran Toy Williams still yearned to serve his country.
CLARKSVILLE, Tenn. – The Tennessee Valley Healthcare System (TVHS) celebrated National Family Caregiver Month with an appreciation event on November 6 at the Cohen Clinic in Clarksville.
Veterans ages 55 to 80 who are current or former cigarette smokers may be eligible to participate in a new lung cancer screening program at the Tennessee Valley Healthcare System (TVHS) Nashville campus.
The Department of Veterans Affairs was a place retired Army Veteran Robert Brady would never visit.
Sandra Hendricks, licensed practical nurse at Tennessee Valley Healthcare System (TVHS), is not only an advocate for women to get screened early and often for breast health, but a passionate artist.