Stories
VA Washington DC health care top stories.
March is National Nutrition Month and a great time to check in on those new year's resolutions to eat healthier.
The Emergency Department Team at Washington DC VA Medical Center has earned a Level 3 Geriatric Emergency Department accreditation from the American College of Emergency Physicians.
February is American Heart Month and the Cardiac Rehabilitation Specialists at the Washington DC VA Medical Center are educating Veterans about resources available to strengthen their heart after a trauma has occurred.
Every February, Washington DC VA Medical Center employees "go red" in support of American Heart Health Month.
Army Veteran Ellis Allen Sr. celebrated his 103rd birthday on January 23, 2023. The Department of Veterans Affairs National Director of Caregivers, and the Washington DC VA Medical Center, invited Allen and his family to join a special virtual birthday celebration in honor of the major milestone.
Seasonal Affective Order, or SAD, is characterized by feelings of sadness or loss of interest during certain seasons. It is most associated with the winter months and can leave you feeling depressed or blue.
January is National Cervical Cancer Awareness Month. According to the Center for Disease Control, around 13,000 new cases of cervical cancer are diagnosed each year and 4,000 women die from those diagnosis.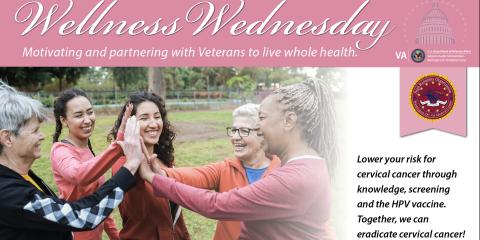 If winter weather has you reaching for the thermostat or another log to throw on the fire, it may be time to reach for a new and improved skin care routine as well.
Every third Monday in January, we celebrate the life and legacy of Dr. Martin Luther King, Jr.
A new year is an opportunity to set new goals or refresh old ones for many. Common New Year's resolutions include losing weight, eating healthier and working out more, but these can also be some of the toughest changes to make.