Stories
Read about what's happening in our VA Louisville health care community.
A Government Shutdown will NOT affect Veteran care.
Doug Hayes is one of 350 people who work every day on the new $930 million Veterans Affairs Medical Center site in eastern Jefferson County.
Veterans can get a FREE flu shot at the Louisville VA Drive-Thru clinic.
There's still more than two years to go until construction is finished on the new $840 million Veterans Affairs hospital in east Louisville, but its impacts are already being felt by nearby businesses and traffic.
On Sunday, August 20th, active military and veterans, as well as their families, can attend the fair for free.
The Robley Rex VA Medical Center welcomed nearly 300 motorcyclists on Wednesday as part of Run For the Wall's annual journey to the Vietnam Veterans Memorial in Washington, D.C.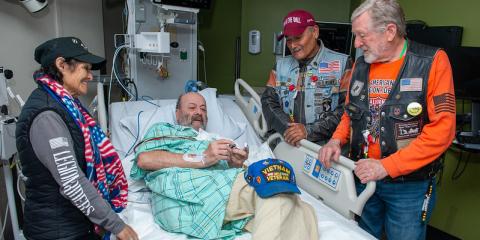 This week marks the 97th anniversary of VA Research and is being celebrated as National Research Week across the country. VA research is often the channel for new technologies to be introduced, federally approved, and brought to the global mainstream clinical environment. VA researchers are part of the innovative teams that developed effective treatments for tuberculosis, invented the CAT scan,
LOUISVILLE, KY - While awaiting assessment for Home Based Primary Care (HBPC) eligibility, the Geriatrics and Extended Care (GEC) team received a call from a Veteran reporting that he needed assistance.
Beginning April 17, 2023, the VA will no longer require fasting for most blood tests.
LOUISVILLE, KY – The Robley Rex Veterans Affairs Medical Center (VAMC) staff joined the VFW Post 1170 on Thursday night to host a public Promise to Address Comprehensive Toxics Act (better known as the PACT Act) Information Meeting for Veterans, spouses and caregivers.