You are viewing this page as a VA beneficiary.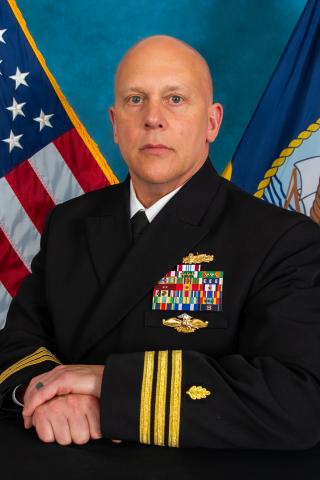 Daniel McClure CDR, NC, USN
Deputy Director Patient Care Services Lovell FHCC, Navy Nurse Executive NMRTC Great Lakes
Lovell Federal health care - VA
CDR McClure is currently the Navy Nurse Executive at CAPT James A. Lovell Federal Health Care Center.
Commander McClure is a native of Hampden, ME. He enlisted in the Navy's Strategic Weapons Systems Electronics pipeline in March 1986 and made strategic deterrence patrols on USS CASIMIR PULASKI SSBN 633G and USS NEBRASKA SSBN 739G. While on shore duty at Trident Refit Facility, Kings Bay, GA, he was selected for the Medical Enlisted Commissioning Program and attended the University of Maine at Fort Kent.

Following graduation, he was commissioned an Ensign in 2001 and reported to National Naval Medical Center, Bethesda, MD where he gained experience in medical and surgical nursing on the Internal Medicine Ward. During this tour, he served as a staff trauma nurse in Casualty Receiving onboard USNS COMFORT (T-AH 20) during OPERATION IRAQI FREEDOM (OIF) and as a Medical Evacuation Nurse during air transport of OIF patients from in-theater locations to National Naval Medical Center, Bethesda, MD.

In 2004, he reported to Naval Medical Center Portsmouth, VA after completing Perioperative Nurse Training in Jacksonville, FL. While serving as Charge Nurse for General Surgery, he deployed with 2MLG, Surgical Shock Trauma Platoon, to Al Taqaddam, Iraq in 2005 in support of OIF II and qualified as a Fleet Marine Force Warfare Officer.

In 2007, he reported to Naval Hospital Camp Lejeune, NC as the PM Shift Supervisor in the Operating Room. He deployed as a Perioperative Nurse Mentor as part of a Medical Embedded Training Team, Combined Security Transition Command-Afghanistan in Kabul, Afghanistan where he was the first Perioperative Nurse to spearhead collaboration between the Afghan National Army Hospital and the National Directorate of Security Hospital in Kabul. In December 2008, LT McClure earned a Master of Business Administration degree through Trident University International.

In 2010, he reported aboard USNS COMFORT (T-AH 20) as the Department Head for Surgical Services leading seven departmental divisions. As ship's company, he deployed to the Caribbean and Latin America in support of the Humanitarian Assistance mission CONTINUING PROMISE 2011 and qualified as a Surface Warfare Medical Department Officer.

In March 2014, he graduated from College of Naval Command and Staff at the United States Naval War College, Newport, RI with a Master of Arts Degree in National Security and Strategic Studies and reported to Joint Task Force Civil Support, Fort Eustis, VA and served as Chief of Medical Operations. He was responsible for the planning and integration of Defense Support to Civil Authorities during domestic Chemical, Biological, Radiological, and Nuclear (CBRN) response operations. In March 2016 he graduated from Joint Forces Staff College, Norfolk, VA completing the requirements for Joint Professional Military Education (JPME) II.

In August 2018, he returned to the MTF at Naval Hospital Bremerton as both a perioperative nurse and as Quality Management Department Head. In April 2021, he reported to Naval Medical Readiness and Training Command New England as the Director, Staff Education and Training. He completed a 179 day detail as the interim Chief of Operations during the establishment and certification of the DHA Small Market and Stand-Alone Military Medical Treatment Facility Organization (SSO). CDR McClure is currently the Navy Nurse Executive at CAPT James A. Lovell Federal Health Care Center. CDR McClure's personal decorations include the Defense Meritorious Service Medal, the Meritorious Service Medal (two awards), the Navy and Marine Corps Commendation Medal (four awards), and the Navy and Marine Corps Achievement Medal (four awards). He is a member of the American Nurses Society, the Association of Perioperative Nurses and a certified perioperative nurse.