Lieutenant Colonel Charles S. Kettles VA Medical Center
VA Ann Arbor Healthcare System (VAAAHS) provides state-of-the-art healthcare services to Veterans at seven locations of care in southeast Michigan and northwest Ohio. VAAAHS is a major tertiary care national and regional referral center and provides care at the Community-based Outpatient Clinics (CBOC) in Toledo, Ohio, and Jackson, Flint, and Adrian. This year, construction began on a new Canton CBOC. The facility includes state-of-the-art ambulatory care clinics, operating rooms, cardiac catheterization suite, intensive care units, laboratory, and diagnostic facilities.
Location and contact information
Address
2215 Fuller Road
Ann Arbor, MI 48105-2303
Phone numbers
Clinical hours
Mon: 24/7
Tue: 24/7
Wed: 24/7
Thu: 24/7
Fri: 24/7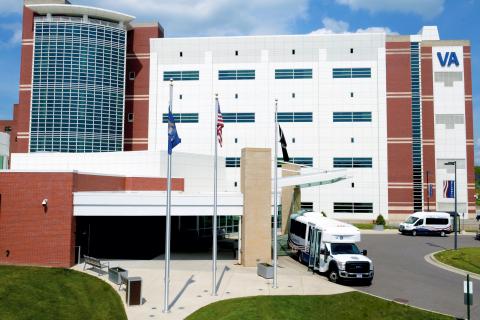 Prepare for your visit
Click on a topic for more details.
VAAAHS has implemented the following COVID-19 precautions to its visitor policy:
All patients and visitors must continue to wear masks and observe social distancing while at the LTC Charles S. Kettles VA Medical Center or Community Based Outpatients Clinics in Adrian, Flint, Jackson, or Toledo. Visitors will be screened for COVID-19 symptoms prior to entering any VAAAHS facility.

Veterans attending at VAAAHS facility for outpatient procedures may have one visitor accompany them to the outpatient clinic, emergency department, or ambulatory procedural visits.
Visiting hours are from 8:00 a.m. to 7:00 p.m., daily. Inpatient Veterans receiving routine medical care are allowed one visitor at a time in their room. There is no time limit to the duration of the visit if it does not interfere with the ability to deliver care. VAAAHS staff may require certain visitors to wear additional Personal Protective Equipment.
Visitors wishing to see Veterans receiving End of Life care may have a maximum of 2 visitors in their room at a time. There is no limit to the number of visitors that may visit. Visiting hours for Veterans receiving End of Life care are 24 hours per day, 7 days per week. There is no limit on the length of visits or number of visits if it does not interfere with the ability to deliver care. VAAAHS highly encourages collaboration between primary care teams and families of the Veteran receiving End of Life care.
All inpatient and outpatient visitors with non-urgent concerns should contact the Patient Advocates Office by emailing VHAANNPatientAdvocates@va.gov or call 734-845-5615 during normal business hours.
Emergency concerns after hours should call 734-845-5279 or 734-842-2122.
From US-23
Take EXIT 39, GEDDES ROAD WEST (Geddes becomes Fuller)
From west of Ann Arbor
EXIT I-94 at US 23 NORTH
Then use the directions above
From the west side of Ann Arbor
Take HURON STREET into downtown Ann Arbor
Turn left on GLEN AVENUE (Glen becomes Fuller)
The entrance to the patient/visitor parking structure is at the intersection of FULLER and GLAZIER WAY
Public Transportation Information
The VA Medical Center is on the Ann Arbor city bus line; departures and arrivals are scheduled frequently throughout the day.  The pick-up and drop-off is located in front of the main entrance of the medical center.  A link is provided to assist you with bus schedules.  Ann Arbor Transportation Authority Website *
Cost: Free for Veterans
Wheelchair availability:  Wheelchairs are available upon arrival for patients who need them to access the building.
*Works best on mobile device
**Map may not reflect current construction projects
Patriot Café
Visitors are welcome to eat in the medical center cafeteria, located on the third floor of the VA Ann Arbor Medical Center. We offer hot and cold entrees, beverages, and desserts. Vending machines are available for your convenience 24 hours a day, seven days a week.  The cafe hours are Monday-Friday 7:00 a.m. to 4:00 p.m.
Patriot Brew Coffee Shop
Our Patriot Brew Coffee Shop serving Starbuck's beverages is located on the third floor of the VA Ann Arbor Medical Center. Visitors may select from a variety of pastries, light sandwiches, and beverages. Hours are Monday-Friday 6:30 a.m. to 4:00 p.m.
Guest Meal Tickets
Guest meal tickets are available for purchase in the Patriot Express vending machines located in the Patriot Café and also in the Community Living Center (CLC). Visitors wishing to dine with an inpatient may purchase a guest meal ticket, and a hot meal will be delivered along with the patient's tray at meal time.
Patriot Store
We offer a full-service retail store with such products as electronics, cosmetics, toiletries, clothing, and snacks. Items may be purchased tax-free. The retail store is open to patients, staff, and caregivers, and is located on the third floor of the main hospital building, across from the Patriot Café.  Hours are Monday to Friday - 7:00 a.m. to 8:00 p.m., Saturday - 9:00 a.m. to 3:00 p.m. and Sunday - 10:00 a.m. to 2:00 p.m.
RESOURCES
A nondenominational chapel is located on the first floor of the main hospital building. Protestant Worship Services and Catholic Mass are held on a regular basis. Please contact Chaplain Service at extension 53467 for additional information or to speak with one of our Chaplains.
The VA Ann Arbor Fisher House is the first Fisher House to be built in the state of Michigan. Construction on the VA Ann Arbor Fisher House began in late April 2019 and the groundbreaking ceremony took place June 14, 2019. The Fisher House Foundation constructed the house and gifted it to the U.S. Department of Veterans Affairs upon its completion on April 20, 2020. The VA Ann Arbor Fisher House opened on June 1, 2020.

The 13,400 ft2 VA Ann Arbor Fisher House will enable family members to be close to their loved one during a hospitalization by providing comfortable, cost free lodging, in a relaxed setting that is only a short walk away from the VA Ann Arbor Medical Center.
Learn more about the VA Ann Arbor Fisher House.
DAV vans
Hours: Individual van schedules vary
We work with Disabled American Veterans and county Veterans Affairs directors to provide transportation for Veterans and authorized caregivers to get to scheduled medical appointments.
Non-DAV van services
Many localities in the region provide other van services to Veterans.
Learn more about DAV and the other van services available in your county
Shuttle services
To schedule transportation for upcoming appointments, Veterans must contact the Ann Arbor VAMC Transportation dispatcher by phone at 734-222-7145, not later than 4 p.m. the duty day prior to the scheduled appointment. We are staffed at this number from 5:30 a.m. to 6:30 p.m. Monday through Friday, excluding federal holidays. Voicemail is available at all other times.
Veterans Transportation Services:
The VTS program provides transportation from your location to your VA medical appointment and back to your location free of charge.
Beneficiary Travel:
VA travel pay reimbursement through the Beneficiary Travel programs may pay Veterans back for mileage and other travel expenses to and from approved health care appointments.
Find out if you're eligible and how to request reimbursement.
The VA Ann Arbor Healthcare System is a smoke-free campus.  Smoking cessation assistance,  including nicotine replacement,  is available for inpatients and outpatients.  For more information, please ask your provider for smoking cessation resources.
In the spotlight at VA Ann Arbor health care
Health services offered here
Click on a service for more details like location, contact, and appointment information.
Get updates from VA Ann Arbor health care